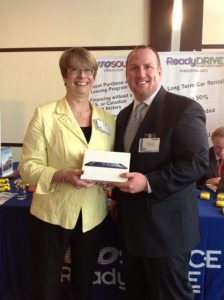 Congratulations to all the winners of the Asia-Pacific EMMA's!
Congratulations Christine Davis of CSD!
Christine was the winner of our iPad mini giveaway at the Asia-Pacific Global Mobility Summit on September 11th in Singapore. Attendees at the show from the International AutoSource team include Team Leader Kiranjit Kaur, Business Development Consultant Rob Faraone and General Manager James Krulder.
Thank you to the entire FEM team for hosting a fantastic event. At the gala we were honored to host and sponsor the dinners of 3 members of Save the Children, a worldwide organization protecting children, at our table.
International AutoSource is looking forward to attending the America's EMMA Gala in October.Thank you to everyone who came by our booth. Check out some photos from the show.