Woodbury, NY  March 21, 2014
International AutoSource (IAS) has re-launched their brand with a new look, a new logo and a new website, while continuing to provide the same great benefits to their customers, including outstanding value, award-winning concierge service and exclusive guarantees not available anywhere else.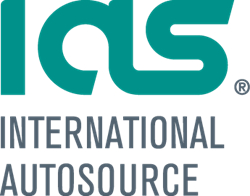 IAS offers automobile purchasing, financing and leasing to the global community moving to the USA, Canada, Japan and the United Kingdom on short and long term assignments. These programs provide cost savings ranging from hundreds to thousands of dollars on a vehicle and save customers' time and resources while building a local credit history. These programs include all manufacturer models both new and used with flexible finance terms and low-cost auto insurance without a local driving history.
IAS also offers full service, all inclusive car rentals in 13 countries. These preferred rates can be as much as 50% less than corporate rates. Rentals include comprehensive insurance, spouse and employee sharing, and flexible billing options.
This Expat solution whether a purchase, lease or rental, is designed to provide a seamless experience and a fully transparent transaction backed by International AutoSource's exclusive guarantees.
Earlier this month, International AutoSource launched their new website (http://www.intlauto.com). The redesigned site features a clean, contemporary look with improved navigation and Expat resources. Program specialists are available for Live Chat online 24/7, or a personal appointment with a specialist can be scheduled.
International AutoSource is the expatriate consumer division of OMSC, Overseas Military Sales Corp, the global distributor of vehicles to our Armed Forces, Diplomats and U.S. government employees for over 50 years. Their expertise in the automotive industry has helped thousands of people relocating with their personal transportation needs. Together, they are the largest global distributor of vehicles in the world. Click here to learn more about IAS.
If you would like more information about this topic, please contact James Krulder, Director, International AutoSource at 516-496-1810 or email at jkrulder (at) intlauto (dot) com.