Hundreds of diplomats and consulate officials come to the United States each year, and they all share one common problem – financing or leasing a car.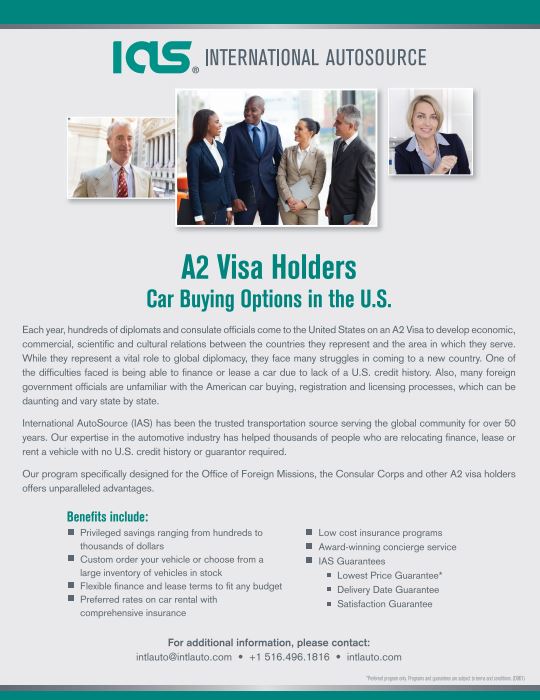 Selected to represent their country in the United States, these Diplomats and officials often face a seemly simple problem when purchasing or financing a vehicle – they do not have a local U.S. Credit Score. Having no local credit score makes it difficult, sometimes impossible, to walk into a car dealership and get approved for financing or leasing. Those who do get approved are often faced with inflated prices and interest rates – not competitive within the local market.
That's where International AutoSource (IAS) can help. As an expert in the Expatriate and Diplomatic car buying sector, IAS is able to assist diplomats and consular officials on A2 visas by providing access to flexible car leasing and financing options without a local credit history.
Other benefits for A2 visa holders include:
Privileged savings ranging from hundreds to thousands of dollars
Custom order your vehicle or choose from a large inventory of vehicles in stock
Low-cost insurance programs
Award-winning concierge service
IAS Guarantees

Lowest Price Guarantee
Delivery Date Guarantee
Satisfaction Guarantee

Preferred rates on car rental with comprehensive insurance