International AutoSource is proud to announce that they are the winner of the 2015 EMEA EMMA for Employee Benefits and Services Provider of the Year. International AutoSource was recognized for delivering excellent solutions for assignees with their Expatriate car financing, leasing, and rental programs.

The Expatriate Management and Mobility Awards (EMMAS) ceremony, held in London on November 6, 2015, was hosted by the Forum for Expatriate Management. International AutoSource has been nominated in the category before, coming in as runner-up in 2014.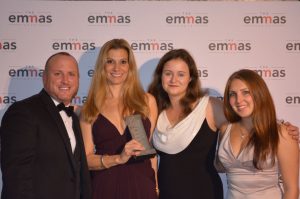 International AutoSource offers car leasing, financing, and purchasing solutions to expatriates, as well as a low-cost, all-inclusive rental car program for international and domestic assignees. IAS provides all of their services without the requirement of a local credit history, eliminating the roadblock in an expats journey that results in many being denied credit, and paying huge out-of-pocket expenses for vehicles.
International AutoSource recently reached a milestone, having helped over 40,000 expatriates obtain transportation in two decades. Their leasing, financing and purchasing programs are available to expats relocating to the United Kingdom, as well as those moving outbound to Canada, Japan, and the United States. For assignees on shorter-term assignments, their ReadyDrive rental program is available in 13 countries; Austria, Belgium, Canada, Czech Republic, France, Germany, Italy, Netherlands, Portugal, Spain, Switzerland, UK, and the USA.
The team at IAS offers a warm congratulations to Pooja Malhotra from EY, who won the Global Mobility Rising Star of the Year Award. IAS was a proud sponsor of this prestigious award.