International AutoSource won the 'Expat Car Leasing Firm of the Year' award at Corporate LiveWire's Global Awards 2016.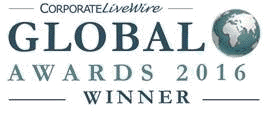 The Corporate LiveWire Global Awards recognizes companies in the corporate finance sector that have demonstrated great achievements in the past 12 months. The Global Awards also identify those who have achieved something special in the finance arena not only for their size in the global economy but also for their involvement in financial developments around the world.
The Judging Panel at Corporate LiveWire looked for companies that were client-focused, with dedicated teams and individuals. International AutoSource (IAS) was chosen for their excellence, performance and dedication throughout the course of the year.
International AutoSource is honored by the recognition of their accomplishments in the Global Mobility community. IAS offers Expats full-service personal transportation solutions for financing, purchasing and leasing without a local credit history. Their programs provide maximum cost savings on a vehicle, saving customers valuable time and resources while building a much-needed local credit history.
Earlier this month IAS received Highly Commended recognition in the category of Employee Benefits and Services Provider of the Year at the FEM Americas EMMAs. The director of International AutoSource, James Krulder, was named Global Mobility Rising Star of the Year at FEM award ceremony.
About International AutoSource
For over 50 years, International AutoSource has been providing value-added services and benefits specifically designed for expatriates and the global community for short and long-term assignments. Their programs offer full-service personal transportation solutions for financing, purchasing, leasing and rental without a local credit or driving history. Through outstanding service, value and support IAS strives to make assignments into a foreign country as seamless as possible while saving customers valuable time, money and resources. For more information, please contact International AutoSource at 516.496.1816, email at intlauto@intlauto.com or visit their website www.intlauto.com.
About Corporate LiveWire
Corporate LiveWire is brought to you by Fenice Media Ltd., a publishing house with an international presence. Fenice Media aim to offer a number of platforms for connecting its clients with an exclusive, global audience. The core products offer daily-updated content along with regular magazine publications that can be viewed on all digital platforms.