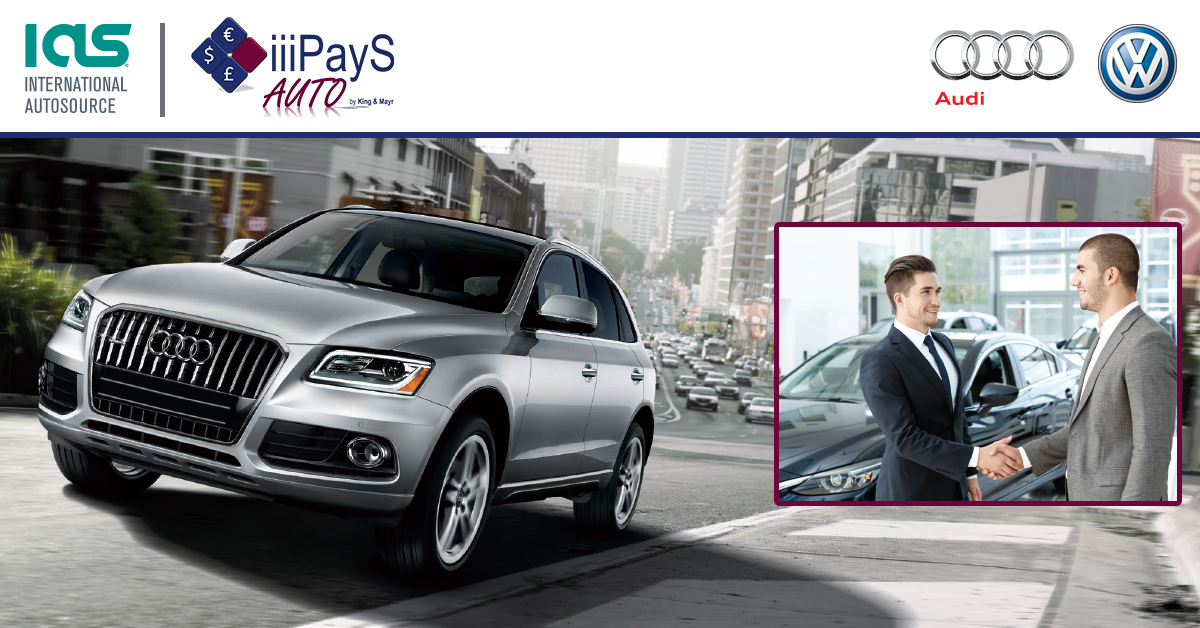 Expatriates living in Germany can now get competitive monthly lease rates on Audi and Volkswagen vehicles without a German credit history.
WOODBURY, NY, OCTOBER 26, 2016 – International AutoSource expands their Expat Advantage Program in Germany, offering a new concierge service through King & Mayr's iiiPayS Auto. The Advantage Program offers expatriates without a German credit history competitive monthly lease rates on new Audi and Volkswagen vehicles. iiiPayS Auto provides bilingual client support and administrative assistance throughout the duration of the lease.
Currently available in five countries, the Advantage Program is one of International AutoSource's premier services. Expats without a German credit history will now be able to lease a vehicle at competitive local rates with no down payment required. A lack of local credit history is a major obstacle for many Expats when they relocate; it can prevent Expats from receiving loan approvals or cause them significantly increased interest rates. With the help of International AutoSource, Expats can avoid these difficulties and begin building their much-needed credit history.
In addition to the great rates and zero down payment, Expats will have access to auto insurance rates comparable to a local German citizen with a perfect six-year driving record. Vehicle delivery is available throughout Germany for customer convenience.
Through the partnership with King & Mayr, an award-winning expatriate relocation service in Germany, customers will benefit from iiiPayS Auto. This new concierge service provides bilingual client support and connects the customer with one point-of-contact to manage their service. iiiPayS Auto simplifies by translating and explaining the leasing process, including the verification of all related paperwork, from payments and vehicle registration. The program also includes scheduling of maintenance, vehicle inspection, parking permits, road tax administration and more throughout the duration of the lease.
Expatriates relocating to Germany can learn more about the Advantage Program and the iiiPayS Auto concierge service by visiting: http://www.intlauto.com
About International AutoSource
For over 20 years, International AutoSource has been providing value-added services and benefits specifically designed for expatriates and the global community for short and long-term assignments. Their programs offer full-service personal transportation solutions for financing, purchasing, leasing and rental without a local credit or driving history. Through outstanding service, value and support IAS strives to make assignments into a foreign country as seamless as possible while saving customers valuable time, money and resources. For more information, please contact International AutoSource at 516.496.1816, email at intlauto(at)intlauto.com or visit their website http://www.intlauto.com.