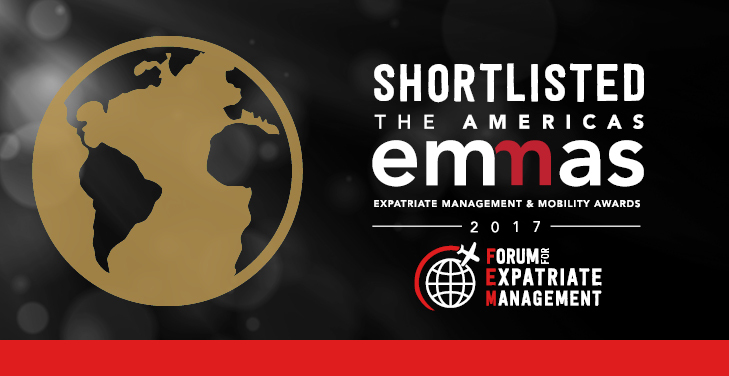 International AutoSource (IAS) has been shortlisted in four categories at the 2017 FEM Americas EMMAs (Forum For Expatriate Management, Expatriate Management & Mobility Awards)
The Forum for Expatriate Management (FEM) recognizes the best and brightest in the global mobility industry. IAS has been named a nominee in the following categories: Employee Benefits Services Provider of the Year, Global Mobility Rising Star of the Year, Thought Leadership – Best Survey or Research Study of the Year and Best Vendor Partnership.
For six consecutive years, the team at International AutoSource (IAS) is honored to be recognized by FEM, as an industry leader with outstanding services and rising stars.
 Meet The Finalists:
 International AutoSource for Employee Benefits Services Provider of the Year: This marks the sixth consecutive year IAS has been nominated in this category taking home the award in 2015. As a leader in the industry, IAS continues to expand their services and provide best-in-class benefits to Expats worldwide.
Vicki Ragavanis for Global Mobility Rising Star of the Year: Over the past four years, as Senior Manager of Business Development, Vicki has embraced the global mobility industry and, the diversity of the global customer. She has exceeded the organization's expectations continuing to pave the road for a sustainable and dynamic future.
 The Expat Review Volume 2 for Thought Leadership – Best Survey or Research Study of the Year: Shortlisted in 2015 for their first study, IAS is back as a finalist in 2017 with The Expat Review Volume 2. In its second year, the study uncovers key finding on demographics, planning, transportation, and challenges to provide a better understanding of what life is like as a foreigner in the United States.
Related: Download your FREE copy of The Expat Review Volume 2 
King & Mayr and IAS for Best Vendor Partnership: Nominated for the second consecutive year, IAS expanded their leasing program into Germany for Expats without a credit history, offering new concierge and administrative services through their partnership with King & Mayr's iiiPayS Auto.
Related:  IAS and King & Mayr Expand Expat Car Leasing Program in Germany 
The awards ceremony will take place during a Gala Dinner after the FEM Americas Summit, on Thursday, May 4, 2017, at the Marriott City Center, Denver, CO.
About International AutoSource
For over 20 years, International AutoSource has been providing value-added services and benefits specifically designed for expatriates and the global community for short and long-term assignments. Their programs offer full-service personal transportation solutions for financing, purchasing, leasing and rental without a local credit or driving history. Through outstanding service, value and support IAS strives to make assignments into a foreign country as seamless as possible while saving customers valuable time, money and resources. For more information, please contact International AutoSource at 516.496.1816, email at intlauto@intlauto.com or visit their website http://www.intlauto.com.