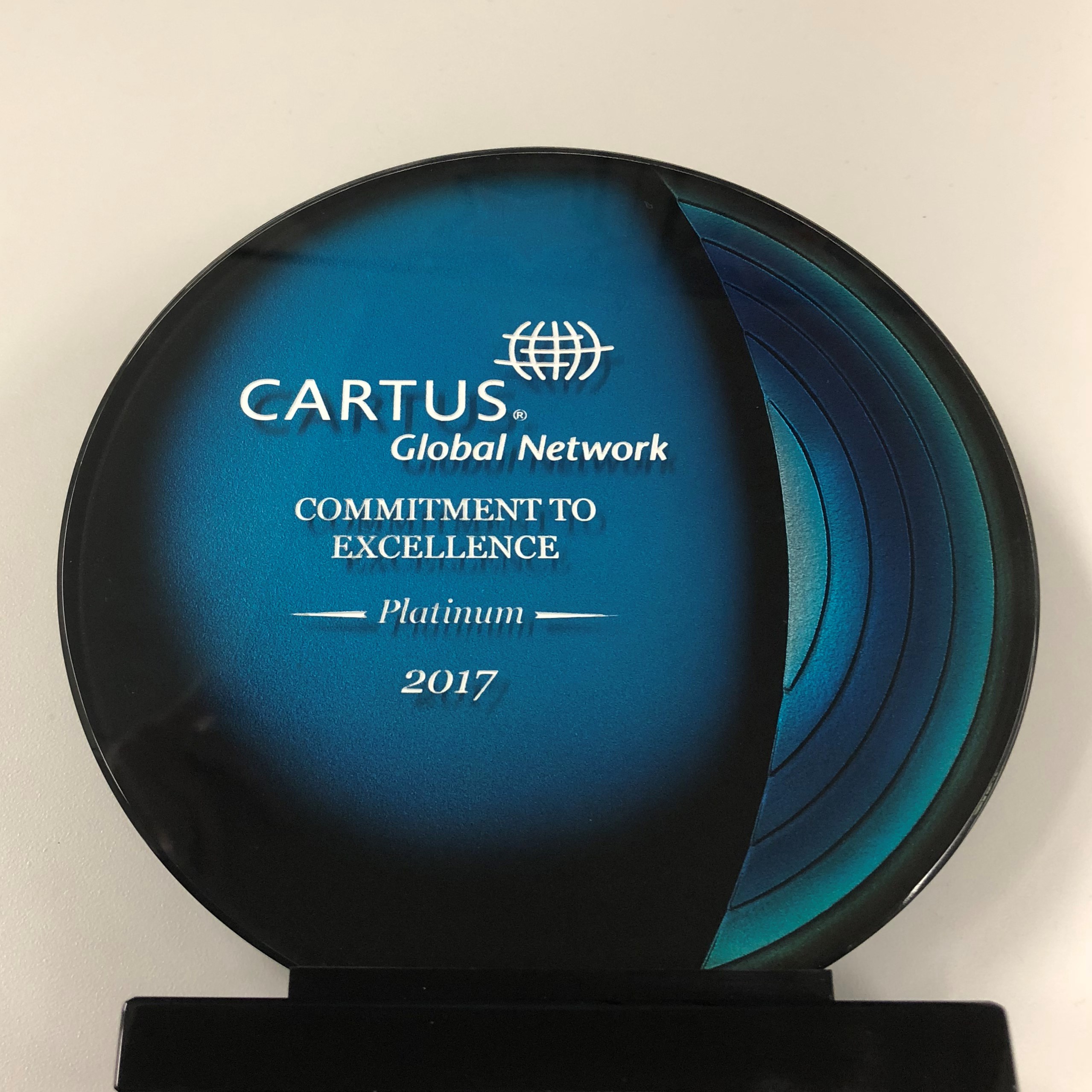 International AutoSource (IAS) was honored for its outstanding performance at Cartus Corporation's 2017 Global Network Conference, held September 25 – 26 in Chicago, Illinois, at the Hyatt Regency, McCormick Place. The Cartus Global Network is Cartus' industry-leading worldwide service provider network. Each year, Cartus recognizes the companies and individuals in the Network who have provided extraordinary service to its customers and clients worldwide. The theme of this year's conference was "Innovate."
IAS was named winner of the Global Network Commitment to Excellence Platinum Award for its exceptional service results, the highest level award a supplier can achieve through service performance. This will be the 10th year in a row that IAS has received this award. This award recognizes a supplier's measureable commitment to excellence and is presented to Global Network service providers who have distinguished themselves by achieving critical performance metrics.
"IAS consistently demonstrates an above-and-beyond commitment to our customers – and to Cartus," said Mike Brannan, senior vice president, Global Supply Chain Management. "Our Global Network providers are a crucial part of the Cartus team, because they minimize the stress that our customers often feel when they're making important relocation decisions. This award acknowledges their unparalleled work ethic, compassion, professionalism and commitment to excellence."
"Cartus has always maintained rigorous criteria and performance standards for their Network providers, but also for the recipients of the Platinum Commitment to Excellence Award," said James Krulder, Director, IAS. "We're proud to be a part of Cartus' Global Network, and to have received this honor, which recognizes our mutual commitment to quality, superior service and to finding innovative ways to provide that service in the changing face of relocation."
About IAS:
Each year, IAS places thousands of Expats behind the wheel of their own vehicle. With over 50,000 customers and counting, International AutoSource (IAS) is the preferred global transportation provider. Whether relocating to the Americas, APAC or EMEA, IAS provides car leasing, financing, purchasing and all-inclusive rental solutions with no local credit history or driving record.
Through IAS, customers save valuable time, money and resources, while our culture of service excellence helps ensure a more seamless transition. Expats are supported throughout the entire car buying experience with high-touch support from the vehicle selection process, finance application, to the completion of registration and delivery.
About Cartus:
Cartus is the trusted industry leader, guiding clients through thousands of corporate relocation programs, large and small, unique and complex. Ideally equipped to lead, Cartus is ready to help your business – whenever, wherever your relocation program is headed.
For more than 60 years, Cartus has helped relocating employees and their families find their way to new homes, new communities, and new experiences. We do it through an unwavering focus on listening and delivering services, solutions, and expertise that respond to their needs and the needs of their companies around the world. Whatever the move or location, we couple personal attention with the expertise gained through more than 4 million moves and a diverse client base.