AT INTERNATIONAL AUTOSOURCE CUSTOMER SATISFACTION IS OUR #1 PRIORITY!
Each week, we share videos and testimonials from Expats around the world who financed or leased a car from International AutoSource (IAS). As a leading provider of Expat car leasing, financing, and car rentals, it's our priority to make sure every customer leaves happy!
Why do Expats love International AutoSource? We'll let them tell you themselves!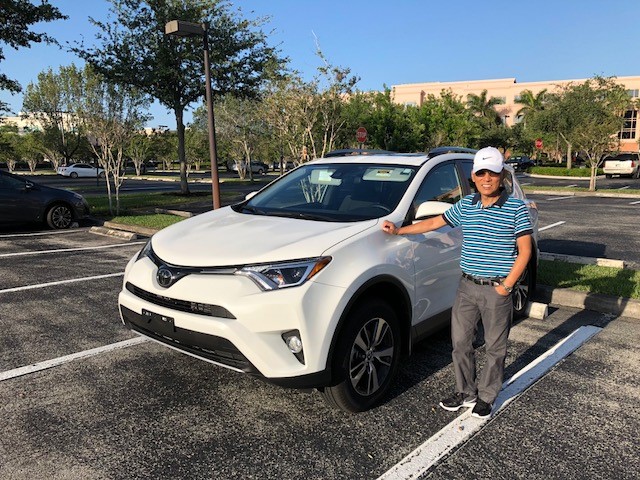 "I lived in the US for more than 35 years before returning to the Philippines. In 2010, I retired from my US job and moved back to my country of birth. Finally, in January of this year I decided to once again return to the US. After this long absence from the US, I discovered that all my credit history has been archived and thus one of the challenges of returning was reestablishing that most coveted credit history. This was a dilemma I faced when I decided to return. But thanks to Autosource, my worries were tempered prior to leaving the Philippines.
I heard about Autosorce because the company I was associated with in the Philippines utilized this program to assist immigrating healthcare professionals in buying their first automobile. So, I contacted their local representative in the Philippines and was promptly referred to their US counterpart. Matthew L, their product specialist, contacted me by phone to discuss the Autosource program. I am sure that Matthew knew I was worried about not having many options to rebuild my credit and most importantly, to be able to purchase a car. Having that conversation with him assuaged my worries and I then assured myself that the Autosource program was the right option for me to take.
Within 2 weeks of my arrival in the US, I had a rental car. All this was arranged by Autosource. Further, within 3 weeks, I had my car delivered, right at my doorstep! Yes, my doorstep. I did not have to haggle with salesmen, nor did I have to go around several auto dealerships to shop. I did it all via phone and on-line. I am far from being a millennial, but this is the way to go to have a stress-free car-buying experience in this day and age.
My advice to those coming to the US without credit is to consider Autosource. They have proven to me that their service is beyond compare. Reliability, trustworthiness, and excellent service are all elements I look for in any company. I can assure you that with Autosurce, you will experience all of these. Join me in being a happy Autosource customer. "-Dr. Tom M.