Each week we feature a customer's experience getting a vehicle through International AutoSource. We have assisted over 50,000 expats from all over the world to get behind the wheel of their own vehicle for their work assignment or academic program in a new country. It's our priority to make sure every customer is completely happy and we love sharing all the amazing testimonials, photos, and videos our customers send us.
This week we would like to introduce you to Sangah A., a Korean expat who recently relocated to the U.S. with her family. As a nurse, it is very important for Sangah to have a reliable form of transportation to get to and from work. Due to the lack of public transportation 87.89% of people in the U.S. commute to work by driving. Sangah financed an all-new 2020 Audi Q3 Quattro Premium from International AutoSource without a U.S. credit or driving history.
Why do Korean expats choose IAS? We'll let them tell you themselves!
"First of all, I really appreciate the team for helping me buy this great car without any hassles. The Korea team in Korea and the U.S. guided me through every detail. I was deeply moved by their effort to find the best car and financial options and help me until the last minute from customer's perspective like they were buying their own car. Before knowing IAS, I was very concerned about buying a car in the U.S. because I didn't know anything about car buying process but IAS was a great relief for me. They also took care of a rental car so that I didn't have any problem to settle down and go to work before picking up my car. The car buying process was so smooth that it was more convenient than buying in Korea. Really hope more people from Korea and other countries know about IAS and use their great service. Hope all the IAS staff stay well and healthy and great success in your business. Thank you!"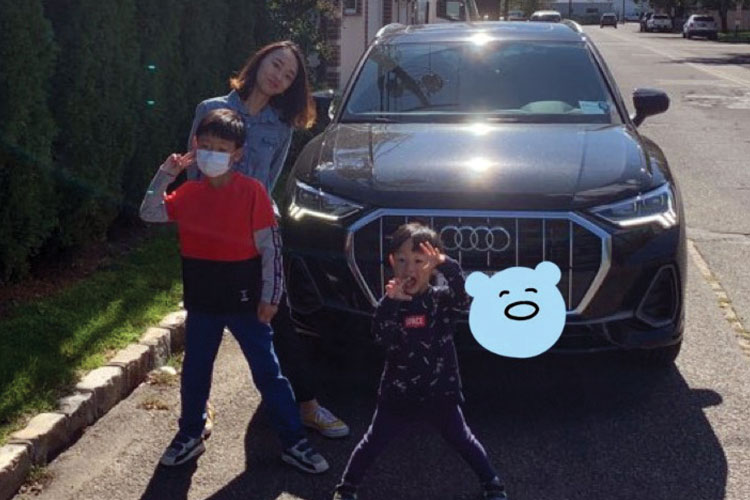 The entire IAS team would like to congratulate Sangah and her family on their new Audi. We hope you enjoy your new car and wish you the best as you start a new journey in the U.S.
We are the vehicle experts for expats.
Our core mission at IAS is to make getting the vehicle you need for your relocation easy, so you can focus on your job or studies and get settled into your new home. Our factory-backed financing programs for foreign executives, healthcare workers, business professionals, students and teachers feature low rates and are designed to get you approved quickly and easily.
Nothing speaks louder than our customer referral program, where hundreds of clients refer their expatriate friends and co-workers to IAS. We're proud to help these internationals with one of their biggest purchases during relocation, and knowing they trust us with their family and friends is our best compliment.
If we've already helped you get a vehicle, please share your experience with us. If you haven't worked with, please let us know if we can provide any assistance. Share your experience or contact us.