Our customer corner series features photos, videos and testimonials from our amazing customers. As the leading provider of expat car leasing, financing, and car rentals, IAS helps expats relocating from all over the world to get behind the wheel of their own vehicle. From business professionals, international students, teachers or healthcare workers we're here to help and it's our priority to make sure every customer is completely happy!
Why do Korean nurses choose IAS? We'll let them tell you themselves!
This week we are featuring our customer Eunhye P. a Korean expat who relocated to Georgia. While researching for a car in preparation for her move from South Korea to the U.S. she came across International AutoSource and our expat vehicle solutions for leasing a new vehicle without a U.S. credit history. Here is what she has to say about her experience leasing her 2020 Volkswagen Jetta S through IAS.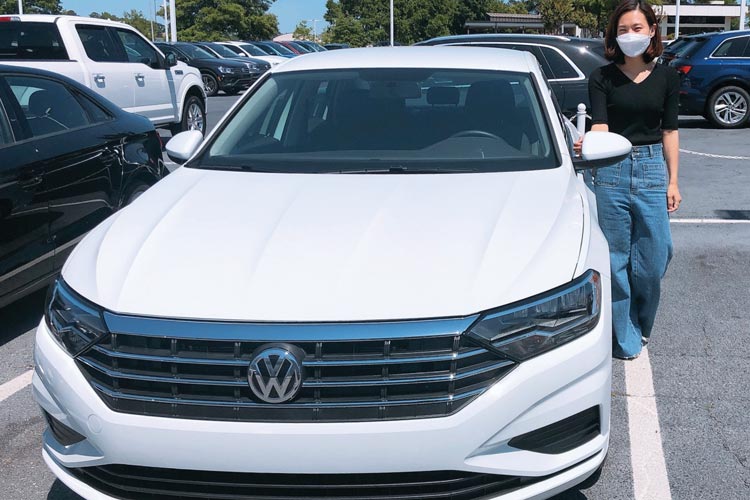 "I came to the US as a nurse and had not decided to continue to live in the US or go back to Korea after a few years. That's why I decided to lease a new car for 3 years. Searching Leasing in the US without credit history" online, I came across a blog on IAS Korea and found great reviews from previous IAS Korea customers. Then I decided to contact the Korea sales leader. Since I am not fluent in English, consulting in Korean and the Korean staff's detailed guidance and explanation were very helpful and made me comfortable throughout the entire process. In addition, I was able to receive a rental service that helps me a lot in the beginning. Due to the COVID-19 situations, getting my driver's license and other process were delayed. However, the Korean manager always kindly answered my questions and treated me like a friend. From car selection to insurance and delivery, he checked everything and guided me thoroughly. I really appreciate IAS Korea."
Eunhye we hope you enjoy your new Volkswagen and exploring the U.S. in your new vehicle.
We are the vehicle experts for expats.
Our core mission at IAS is to make getting the vehicle you need for your relocation easy, so you can focus on your job or studies and get settled into your new home. Our factory-backed financing programs for foreign executives, healthcare workers, business professionals, students and teachers feature low rates and are designed to get you approved quickly and easily.
Nothing speaks louder than our customer referral program, where hundreds of clients refer their expatriate friends and co-workers to IAS. We're proud to help these internationals with one of their biggest purchases during relocation, and knowing they trust us with their family and friends is our best compliment.
If we've already helped you get a vehicle, please share your experience with us. If you haven't worked with, please let us know if we can provide any assistance. Share your experience or contact us.