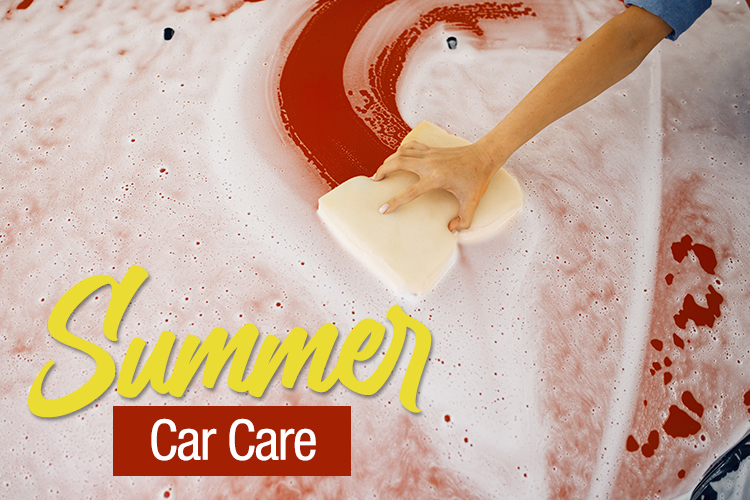 The summer weather is here making it the perfect time to get outside and invest in the care of your car.
Here are five top tips to ensure your vehicle is the cleanest it can be before you head out on your summer adventures.


1. Wash your car
The snow, mud, and salt during the winter and spring seasons make a mess of your car. Unlike winter when dirt and grime are not as prevalent, the summer months are known for kicking up road dust. Your paint job acts as a magnet for dirt particles which, if allowed to build up, can start to harm your vehicle's finish.
The best way to make your car look good from the outside is to give it a good wash. Take your car to your local car wash and get your vehicle looking brand new.
If you prefer to wash your car by hand yourself, remember cleaning in direct sunlight can only make things more difficult. The car should be continuously wet during the cleaning process. If the sun is beating down on it the whole time, then the water and cleaning products will leave streaks and marks.
Wash your car in a shaded area or in the early morning or at sunset, where the sun may not be as hot.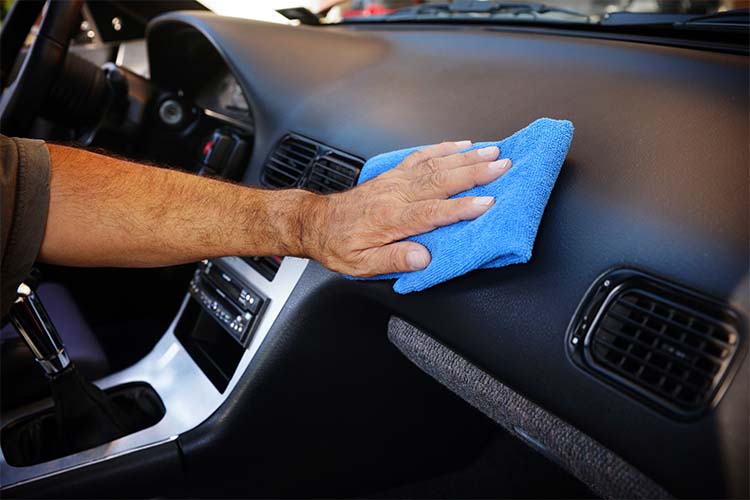 2. Brush and vacuum the interior
Brushing and vacuuming the interior of your vehicle is key to a deep clean. By using a brush, you can get all the nasty dust and dirt that has lodged itself in hard-to-get corners.
After brushing, use a handheld vacuum for cars. Start with the crumbs in your seat and move your way down to the carpet and any other crevices where dirt is hiding including the trunk.
Can't drag your vacuum outside to your car – Many car washes and gas stations have vacuums you can use, just ask the attendant.
Pro-tip: We recommend not using everyday bath towels, hand towels, and paper towels. Whenever possible, use microfiber towels. Regular, towels are not soft enough for the paint of your car no matter how new they are. Microfiber towels are perfect for the job and are affordable.
3. Getting under the hood: Oil change
When's the last time your vehicle had an oil change? If it's been a while since your last change, you may be due for some maintenance. Summer months usually mean more travel, and with more travel comes more frequent oil changes. Summer days and warmer temperatures are a great time to change your oil.
If you don't know how to change your oil yourself, take it to your local dealership or oil change shop and they'd be happy to help.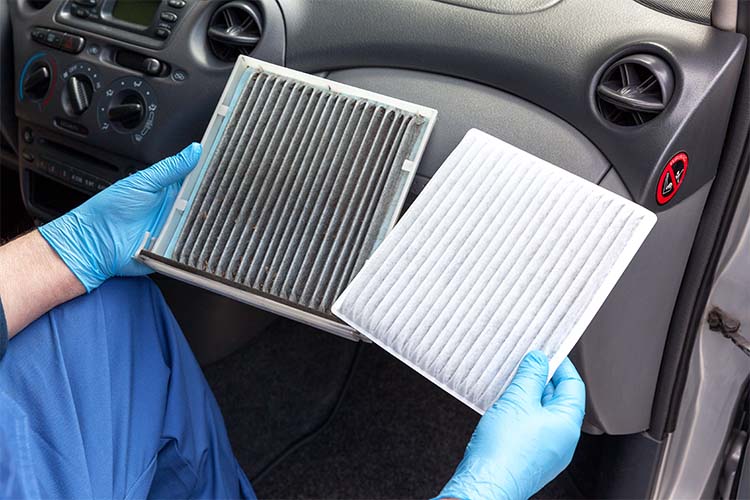 4. Getting under the hood: Replace your old cabin air filter
Spring and summer kick up allergies in many people, especially those who are sensitive to pollen. One thing that may help is changing your vehicle's cabin air filter. The cabin air filter works to trap pollutants and debris that enter through the ventilation system of your vehicle.
You should check your vehicle's manual to see when it's recommended you change your cabin air filter. If you can't find your manual, that's ok. It's generally recommended to change your air filter every 15,000 miles or once per year.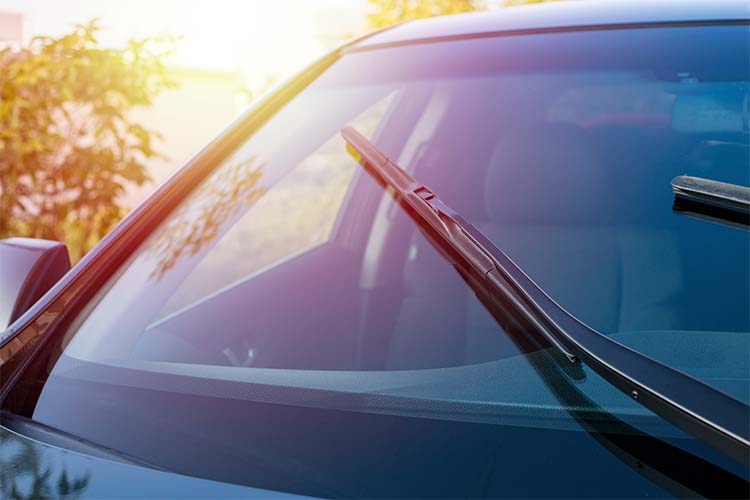 5. Wipers
Our last tip focuses on deep cleaning your car and safety – check out your windshield wipers. Windshield wipers are an often-overlooked part of deep cleaning your vehicle. The winter and spring months can be taxing on your wipers, so it's a good idea to look and see if they need replacing.
One straightforward way to tell if your wipers need replacing is if they leave streaks on your windshield when in use. If streaks are being left when the wipers are in use, it may be time to replace them! By replacing your wipers, you're not only cleaning your car but making it safer too.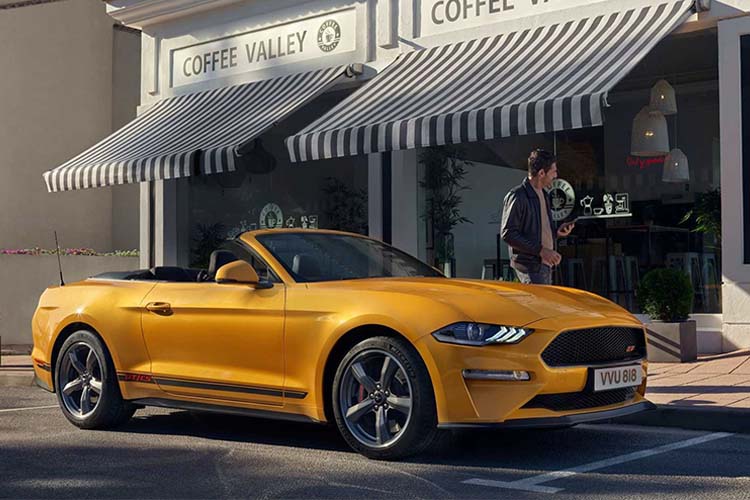 Photo Credit: Motor1.com 
Final Thoughts
There's something about a detailed, clean, shiny car that puts a little pep in your step. You're taking care of a valuable asset and it feels good. These deep-cleaning tips will help make your car look brand new and you'll enjoy going for a drive.
Whether you're cruising or driving, rolling, or riding, dive into summer with a fresh clean car using our top tips.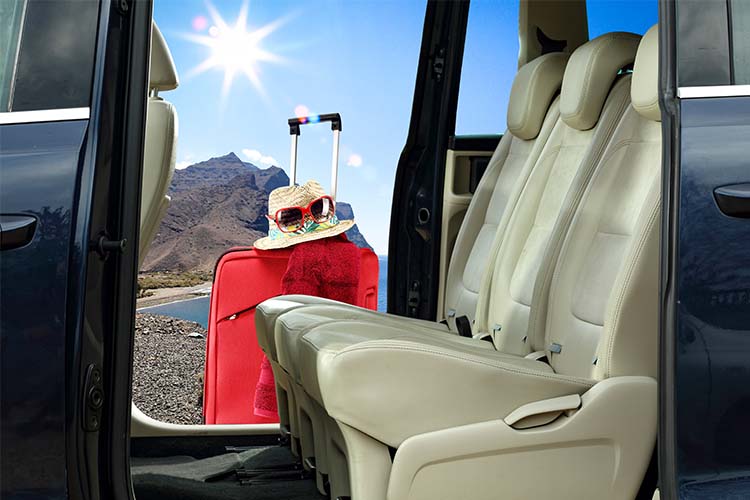 About International AutoSource
As the vehicle experts for expats, International AutoSource has helped over 50,000 international and domestic assignees get a vehicle for their relocation to the United States. IAS offers flexible vehicle solutions to finance, lease or rent a vehicle in the US without a local credit history.
Our factory-backed financing programs for foreign executives, healthcare workers, business professionals, students, teachers, and the diplomatic community feature low rates and are designed to get relocating expats approved quickly and easily.
Choose from top-selling models from Audi, Chrysler, Dodge, Ford, Honda, Infiniti, Jeep, Lincoln, Nissan, Ram, Toyota, and many more.