SOURCE: By Sue Mead. www.sfgate.com .
Published 3:09 pm, Thursday, November 28, 2013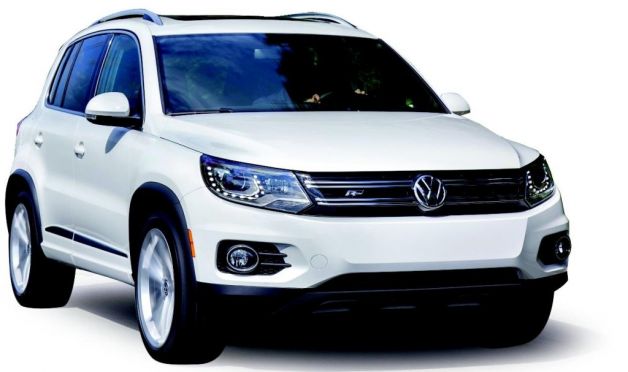 Volkswagen's little SUV, Tiguan, is lightly refreshed for 2014 and has a new R-Line trim option, along with a few additions to the technology and optional feature lineup.
This affordable compact utility is somewhere between boxy and curvy, with a slightly protruding nose; a wide, horizontally slatted grille; and piercing, upward-slanting headlamps. The side is marked by a rising waistline and low character lines across the bottom third of the doors, which are topped by large windows. The rear is dominated by a little bulb of a rear liftgate and integrated spoiler. Roof rails are standard, as are 16-inch alloy wheels (17-, 18- and 19-inch wheels are available on various trim lines).
The 2014 VW Tiguan starts at $22,995 and competes with turbocharged versions of the Kia Sportage and Mazda CX-7, as well as more up-market offerings like the GMC Terrain and Acura RDX.
We drove the Tiguan R on a recent ride-and-drive in California. This small SUV is sporty in its other trims, but the "R" version punctuates its German engineering with more performance and more styling that make it hotted-up with side skirts, fender flares and a rear spoiler, as well as bigger wheels, low-profile tires, a lowered suspension and paddle shifters, plus other distinguishing interior trim features and Fender audio system. The R-Line sport trim version starts at $36,535.
The Tiguan is powered by a 2.0-liter, turbocharged, four-cylinder engine (VW's signature GTI). The motor makes 200 hp and 207 lb ft of torque, and it's mounted to a six-speed manual transmission. Higher-end models come with a six-speed Tiptronic automatic transmission. The 2014 Tiguan R-Line versions have steering wheel-mounted shifter paddles. All Tiguans with automatic transmissions can be ordered with all-wheel drive.