by Vicki Ragavanis
Senior Manager, International AutoSource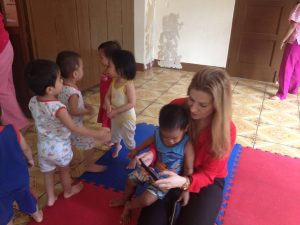 Every year, International AutoSource (IAS) donates a portion of its proceeds from our Healthcare Program to Hospicio de San Jose in the Philippines. It was with great pleasure that I had the opportunity to visit the orphanage this year and deliver a check for $9,250.
There are more than 200 residents including orphans, special needs children and elderly who have either been abandoned or do not have the means to care for themselves. The money will be used for much-needed necessities including food, medicine, and clothing. Our IAS team members personally contributed additional funds to buy crayons, coloring books and lunch for two of the groups, totaling 72 children.
Related: International AutoSource visits the Hospicio De San Jose Orphanage in Manila, Philippines
From a personal perspective, it was difficult to witness the poverty and challenging circumstances. Initially, I thought my empathy would get the best of me. However, it was washed away by the feeling of hope, smiling faces and the dedication to improve the quality of life. I danced and sang with an elderly woman who was waiting for her activity class to start followed by a visit to the center where they gardened as a means of occupational therapy. I played with curious little toddlers who made me laugh. And lastly, greeted by a nun who was extremely grateful for our generosity.
I am proud to be part of an organization that gives back. Where charity is just charity and not a ROI. I am thankful to have been part of this annual tradition, and look forward to continuing this for many more years to come.
A special thank you to all the volunteers that contribute their time and effort to teach and care for everyone at Hospicio de San Jose, Manilla!