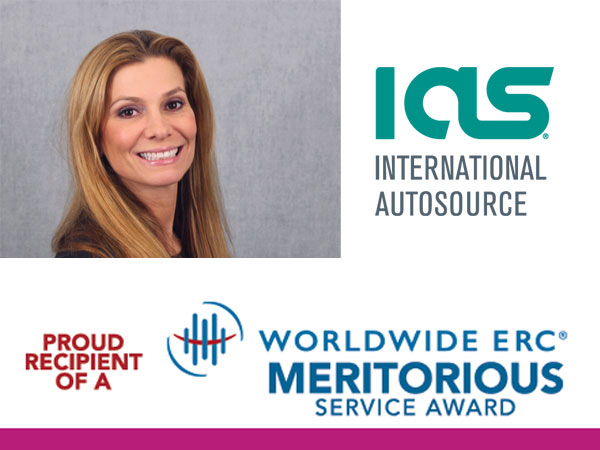 Vicki Ragavanis, Senior Manager, Business Development, has earned her Meritorious Service Award from Worldwide ERC®, the workforce mobility association. The award will be announced at the Worldwide ERC® 2017 Americas Mobility Conference in Atlanta, Georgia on May 17-19.
The Worldwide ERC® Service Recognition Awards Program was established in 1989 to honor members who voluntarily share their time, talent, and expertise through various contributions to the association.
Ragavanis earned the award for her contributions to the organization, serving on ERC's Planning Committee, Ambassador Committee, moderating a conference session, YP 40 member, and featured writer for Mobility Magazine. Her article, 'The U.S. Transportation Conundrum' is available to read here (pages 46-51). Ragavanis respectfully said, "I look forward to continuing my service to the organization, its incredible staff and members of our community. Most of all, a very big thank you to ERC whose contributions provide invaluable education and insight to the global community."
About International AutoSource (IAS)
IAS is the expatriate consumer division of OMSC, Overseas Military Sales Corp, the global distributor of vehicles to our Armed Forces, Diplomats and U.S. government employees for over 50 years. Our expertise in the automotive industry has helped thousands of people relocating with their personal transportation needs. Together, we are the largest global distributor of vehicles in the world.
IAS provides value added services and benefits specifically designed for expatriates and the global community. Through outstanding service, value, and support, we strive to make assignments into a foreign country as seamless as possible. For more information, visit www.intlauto.com
 About Worldwide ERC®
Since 1964, Worldwide ERC® has been committed to connecting and educating workforce mobility professionals across the globe. A global not-for-profit organization, Worldwide ERC® is headquartered in Washington, D.C., with offices in London and Shanghai, and is the source of global mobility knowledge and innovation in talent management from Europe, the Middle East and Africa, to Asia and across the Americas. For more information, visit www.WorldwideERC.org.
Source: WorldwideERC.com