Moving to a new country as an expat can be stressful. There are many things that you need to acquire and have set up for your move. Buying a car is one of the biggest purchase decisions an expat will make during their relocation and IAS makes it quick and easy to get the vehicle you need so you can focus on your job assignment and coordinating other aspects of your move.
Why do expats choose International AutoSource? We'll let them tell you themselves!
Anne G., a healthcare professional, recently relocated to the United States from the Philippines. As a healthcare professional it was important to have a vehicle to get to and from work. International AutoSource was able to assist Anne through our Healthcare Advantage program to finance a 2021 Nissan Rogue Sport for her move to Dallas, Texas.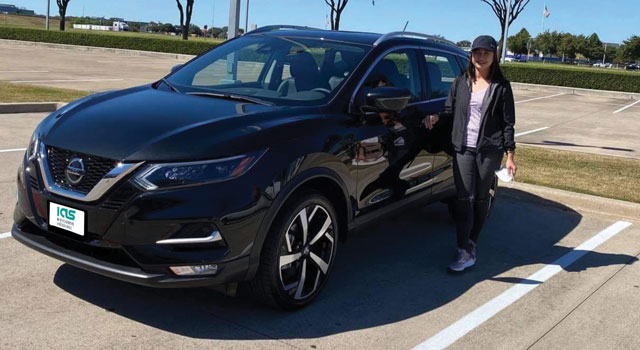 As it is her first time living in the US, Anne was unfamiliar with the American car buying process. The IAS team guided her throughout the entire car buying process from the selection of her Nissan vehicle, securing financing, accessing competitive auto insurance to licensing and the registration of her vehicle. When asked what word described her experience with IAS she said "Convenience."
We are the vehicle experts for international healthcare professionals.
As an industry leader providing vehicle solutions to the healthcare community for over 15 years, we know how important it is for healthcare professionals to have their own transportation.
In the U.S. 87.89% of people drive to work due to the lack of public transportation. We have tailored our Healthcare Advantage Program to meet the unique needs of healthcare professionals moving to the United States. Our program provides vehicle financing for healthcare professionals with no U.S. credit history backed by exclusive protections, privileged pricing, and dedicated full-service support that are not available anywhere else. International Healthcare professionals can take advantage of savings, convenience, and full-service support all in one place. Our dedicated healthcare product specialists work one-on-one with each customer to provide full-service support before, during, and after delivery. We also assist with all documentation needed for vehicle financing, licensing, and registration as our customers have more important things to worry about.