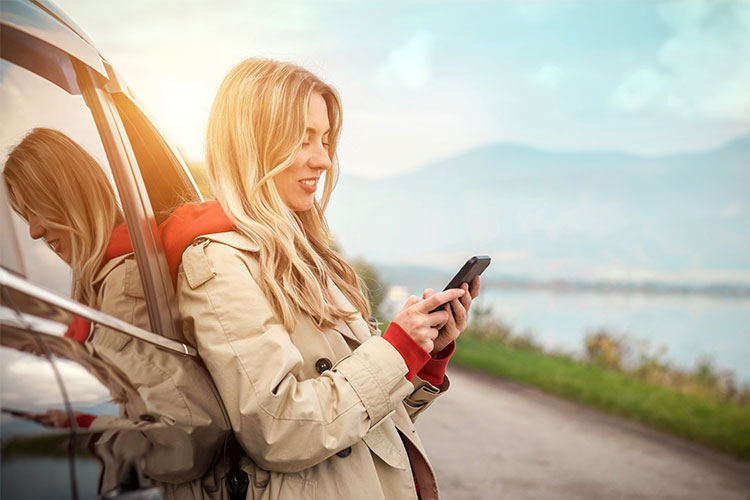 When you finance a car in the United States, the financial institution that provided your loan, will require auto insurance on your vehicle.
As a healthcare professional, we want to help you understand the car insurance policies and regulations in the US.
Take a closer look at what you need to know about car insurance in the US and how your credit and driving history can impact your ability to obtain car insurance.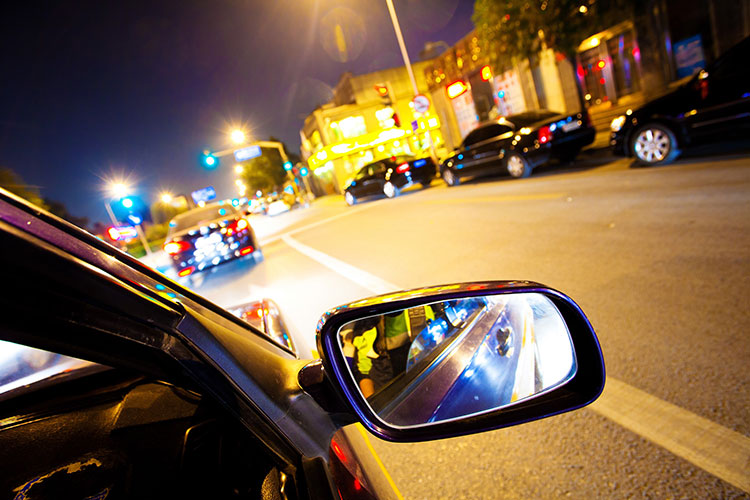 What is Auto Insurance?
Auto insurance provides financial protection to cover the cost of damage or injuries caused by your vehicle in the event of an accident.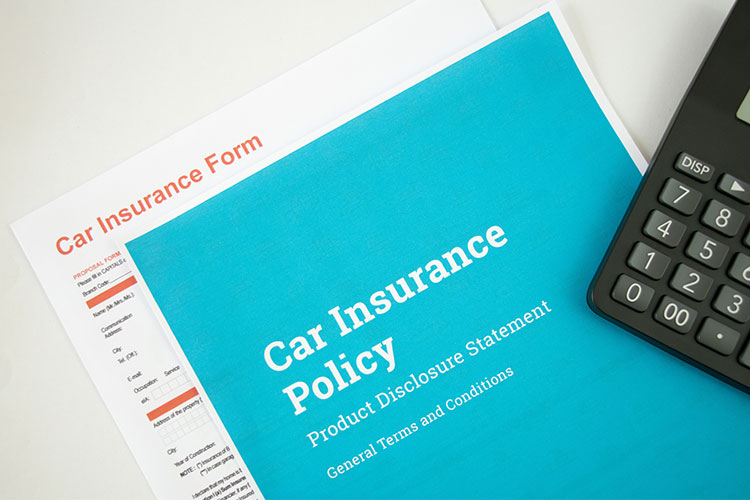 IMPORTANT Facts About Car Insurance
Compared to most countries car insurance in the US is costly. As an expat, it is important to understand the following key points about car insurance in the US:
Proof of insurance will be required when you register your car.
The insurance requirements and coverage levels will vary by the US state where you live.
Failure to carry the required insurance can result in hefty fines or even legal consequences.
Insurance premiums vary depending on a number of factors including the type of car you drive, your age, driving history and city of registration.
Not all policies are the same, so it is important to understand what is included in your policy.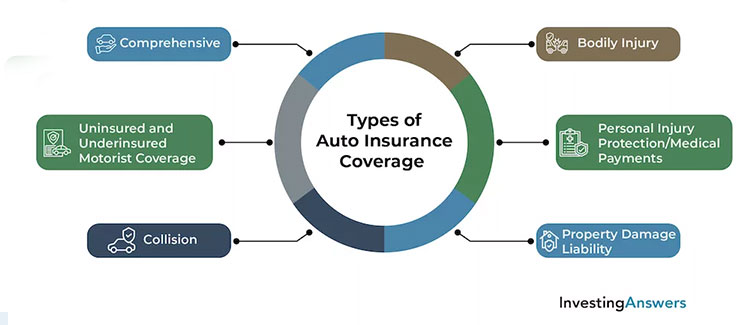 Photo Credit: Investing Answers
Types of Auto Insurance Coverage
There are several different types of car insurance coverage in the United States. Here are six of the most common types.
1. Liability Insurance: Provides coverage if you are found to be at fault for damages or injuries sustained by others in an accident.
2. Collision Insurance: Provides coverage for damages to your own vehicle if you are involved in an accident.
3. Comprehensive Insurance: Covers damages to your vehicle that are not the result of an accident, such as theft, vandalism, or natural disasters.
4. Personal Injury Protection (PIP): Provides coverage for medical expenses and lost wages if you or your passengers are injured in an accident.
5. Bodily Injury: Bodily injury coverage provides financial protection for you and other covered members of your household who may be involved in an accident while driving. This coverage usually extends to the vehicles you own and are on your policy. It also pays for medical care and injuries sustained by people in the other vehicle(s) involved in the accident.
6. Uninsured/Underinsured Motorist Coverage: Provides coverage if you are involved in an accident with an uninsured or underinsured driver.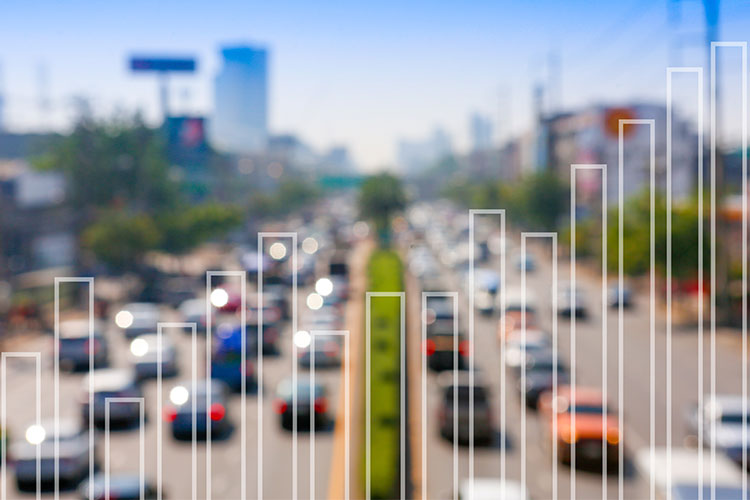 How Credit Affects Auto Insurance Rates
In many states, your credit score and driving history can have a significant impact on your auto insurance rates. Over 90% of insurance companies in the US take your credit score into consideration when evaluating premiums.
A good credit score is often seen as a sign of financial responsibility and can lead to lower insurance premiums. On the other hand, a poor credit score can result in higher insurance premiums.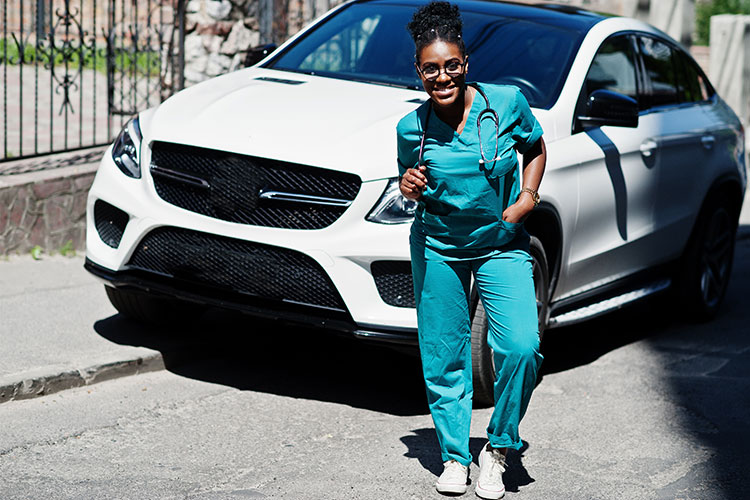 How Credit Affects Car Payments
If you are financing a car, your lender may require you to carry a certain level of insurance coverage. Your car payments and auto insurance premiums will be part of your monthly expenses, so it's important to factor these costs into your budget when purchasing a vehicle.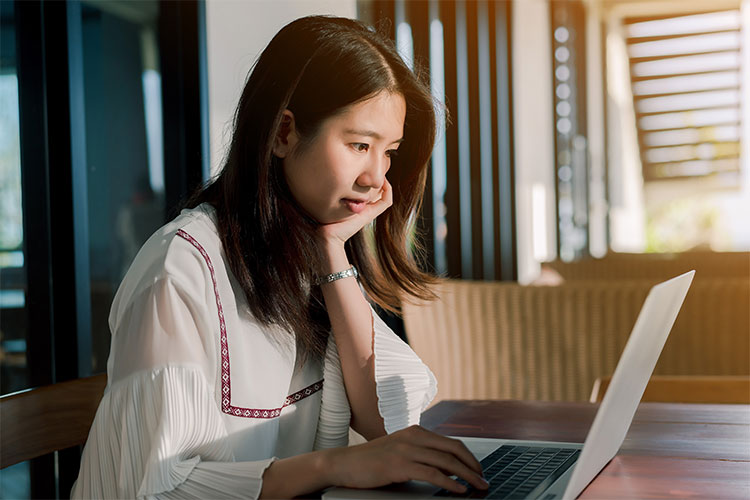 Overcoming Credit Challenges
As an incoming healthcare professional, you will start out with a disadvantage since you will not have a US credit or driving history. This often results in expats having to pay more through high-interest rates on their car loan, higher monthly car payments and high insurance rates.
However, there are options to overcome this challenge. Similar to financing a car there are expat-friendly insurance companies that don't rely on a US credit or driving record to access competitive auto insurance rates.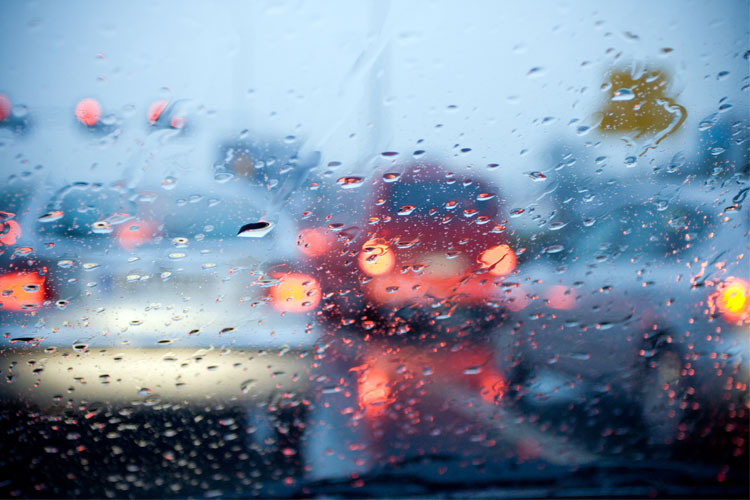 Final Thoughts
As a relocating healthcare professional, it can be challenging to navigate the insurance system in the US, especially when it comes to auto insurance.
Car insurance is an important aspect of driving in the United States. By understanding the important facts and what to expect, you'll be better equipped to make informed decisions about your insurance needs.
The team at International AutoSource is here with you every step of the way to assist you with your vehicle needs, including getting auto insurance. We've partnered with expat-friendly insurance providers who do not discriminate based on lack of credit and provide competitive rates and without a US driving history.
About International AutoSource
For over 15 years, International AutoSource (IAS) has specialized in serving the needs of the international healthcare community. Through the IAS Healthcare Advantage Program foreign nurses, doctors, physical therapists, medical technicians, and other healthcare professionals moving to the United State can finance a car for their relocation to the US with benefits tailored to fit their needs. 
International healthcare professionals can take advantage of savings, convenience, and full-service support all in one place. Our dedicated healthcare product specialists work one-on-one with each customer to provide full-service support before, during, and after delivery. We also assist with all documentation needed for vehicle financing, licensing, and registration as our customers have more important things to worry about.