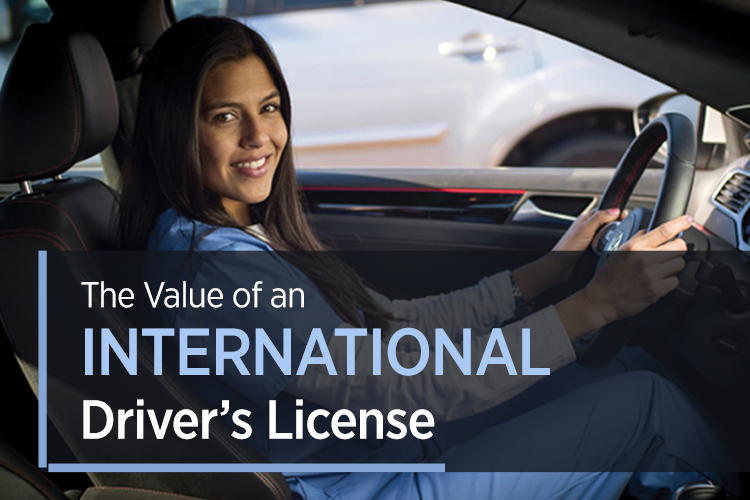 Preparing for your move to the US:
Getting an International Driver's License
When planning your move to the US there are a lot of things to take care of before you leave. As a healthcare professional it will be important for you to have a reliable form of transportation in the U.S. to get to and from work. This will most likely be driving as that is the primary form of transportation used by 87.89% of commuters across the United States. To make your transition easier we recommend obtaining an International Driving Permit from your home country before you leave.
What is an International Driving Permit?
An International Driving Permit also known as an International Driver's license or IDP is helpful when moving abroad and easy to obtain. As a valid form of identification in 186 countries worldwide, it translates your home country's driver's license information into 10 languages (English, French, Spanish, Russian, Chinese, German, Arabic, Italian, Swedish, and Portuguese) and includes your name, photo and driver information.
Depending on your country, you may be able to obtain an International Driving Permit from a police station, post office or the government department that handles motor vehicles. You will need to fill out an application and provide supplemental documents including a photo, a copy of your license, etc. Check your country's local requirements for where to obtain one, what is required to apply and the cost. Please note that the US does not issue International Driving Permits to foreign residents so this must be obtained in your home country.
Why get an International Driving Permit?
Obtaining your International Driving Permit will allow you to get driving right away and can also make it easier to get a driver's license in the United States. Each state has its own DMV system and while they all have a similar set of requirements they each have a unique set of forms and application processes. They also have a variety of agency names, such as the Department of Motor Vehicles (DMV), Department of Transportation (DOT), the Motor Vehicle Commission (MVC), Motor Vehicle Division, Office of Motor Vehicles, Vehicle Services Department, Bureau of Motor Vehicles, Motor Vehicle Administration, Registry of Motor Vehicles, Department of Public Safety, Motor Vehicle Commission, or Department of State. Locate your relevant state agency online to get specific details to get started.

How to get a U.S. Driver's License
While in some states you may be able to use your International Driving Permit for a certain period of time you will eventually need to get a US Driver's License. Some US states have so called reciprocity agreements with other countries. This means that if your driving permit has been issued in one of these countries, you will be able to simply exchange it for a US driving license of that state without having to take any written or road tests. You should check with the U.S motor vehicle agency in the state you will be residing to see if this option is available.
If not you will need to acquire a driver's license, by following the essential steps to have the required knowledge of the road in order to drive in the country. You apply for a driver's license in the state you reside. The first step is to learn the rules and regulations for operating a motor vehicle. Each state provides a manual with everything you need to know.
Once you are confident that you have learned the rules for driving, go to the nearest motor vehicle facility in your state and take a written test. The test generally contains a number of multiple choice questions, either taken on paper or on a computer. Once the test is passed, you will be given a learner's permit allowing you to operate a car only if a licensed driver is sitting next to you. A permit is required to take driving lessons, which can either be done privately or through a driving school.
When you are comfortable driving on the roads in the US you will have to schedule and take a road test in a properly registered and insured car supplied by a licensed driver. During the driving test, a state inspector will sit next to you and while you perform basic driving and parking activities. You will find out if you pass or fail the test immediately after you finish the test. If you fail, you'll need to reschedule another test at another time to try again until you pass. If you pass, you will get a temporary paper license and receive the original license in the mail around two weeks later.
You will be required to take a vision test and pay a state fee for your license and also show proof of identity with a photograph (which includes your date of birth) as well as proof of residence in the state of which you are applying. Passports, I-94 cards, or a green card stamp are all acceptable forms of identification.
Free Online Driving Course
IAS offers additional support for the safety of relocating healthcare professionals. Many expatriates, while experienced drivers are likely unfamiliar with local driving rules and laws in their new state and new drivers may lack the essential defensive driving skills designed to help prevent hazards before they occur. For every customer that orders a vehicle through our program, they are given access to one of the premier online driving schools in the United States where they can take a convenient course, at their own pace, designed specifically for their new state of residence.
The benefits of online driving courses for healthcare professionals relocating to the US
Not only do these convenient safety courses reduce risk, but some states also require the completion of a defensive driving course to secure a state license. These courses may offer savings to those individuals who participate. Many insurance companies offer discounts up to 10% on auto insurance premiums with a certificate of completion.
About International AutoSource
As an industry leader providing vehicle solutions to the healthcare community for over 15 years, we know how important it is for healthcare professionals to have their own transportation and we have tailored our programs to meet their unique needs. The IAS Healthcare Advantage Program provides vehicle financing with no US credit history backed by exclusive protections, privileged pricing and dedicated full-service support that are not available anywhere else. IAS is about making an international healthcare professionals journey to the US one step easier by getting them ready to drive when they arrive so they can focus on their job assignment. Check out these helpful resources for international healthcare professionals.