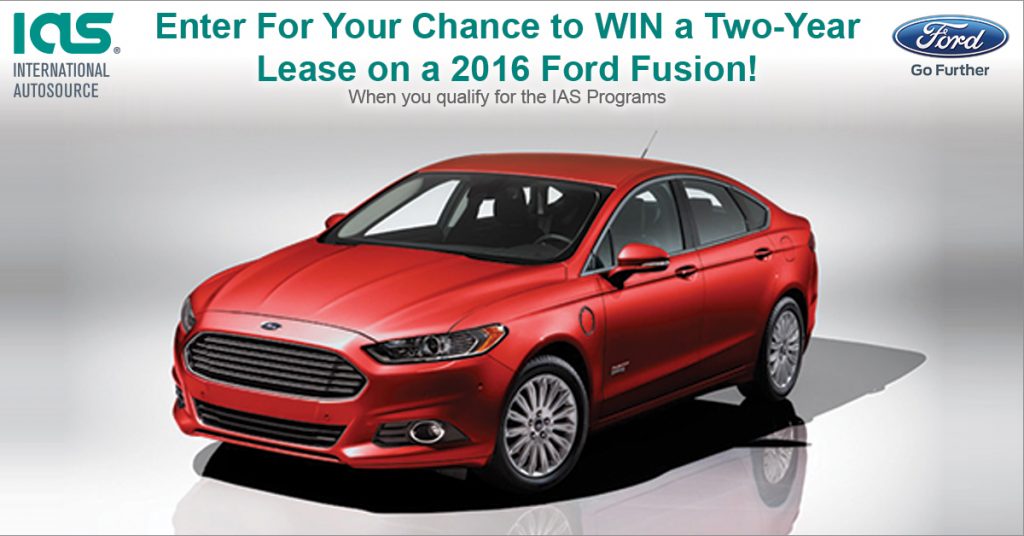 International AutoSource (IAS) is choosing one lucky expatriate to win a two-year lease on a Ford Fusion, when they qualify for the IAS Programs!
International AutoSource is one of the leading providers of car financing, leasing, purchasing, and car rentals for Expats and Foreign Nationals moving to the United States. IAS provides an online buying experience created specifically for Expats, addressing the common problems faced when moving to a new country, such as no local credit history. For years, International AutoSource has helped thousands of Expats obtain a new vehicle in the United States.
Now IAS is hosting a giveaway, choosing one lucky Expat to receive a FREE two-year lease on the 2016 Ford Fusion. In order for Expatriates to be eligible to enter, you must be qualified for the International AutoSource Expat car programs. Learn more about the IAS programs here.
HOW TO ENTER
Fill out the form on the Entry Page with your First Name, Last Name, Email, and optional Phone Number
Speak to an International AutoSource vehicle expert  to determine your eligibility
All qualified submissions are entered into the grand prize drawing
ENTER FROM JULY 15th – OCTOBER 1st