In its second year, the 2016 Expat Review Volume 2 uncovers new findings on relocation challenges and provides a better understanding of life as a foreigner in the United States.
WOODBURY, NY – The 2016 Expat Review Volume 2 is the second study of the expatriate community in the United States, conducted by expat provider International AutoSource. In 2016, over 1,500 expats who had relocated to the U.S. answered questions about their experiences moving to the country and the challenges and successes that followed. The Expat Review reveals the findings of the survey and is available for free download online.
International AutoSource used the data and findings collected from the 2015 Expat Review to create the 2016 survey. The questions were designed to probe deeper into the world of an expatriate, and the results proved successful. The findings of the 2016 Expat Review are broken down into five parts: demographics, planning, transportation, challenges, and 'what the Expats wish they knew'.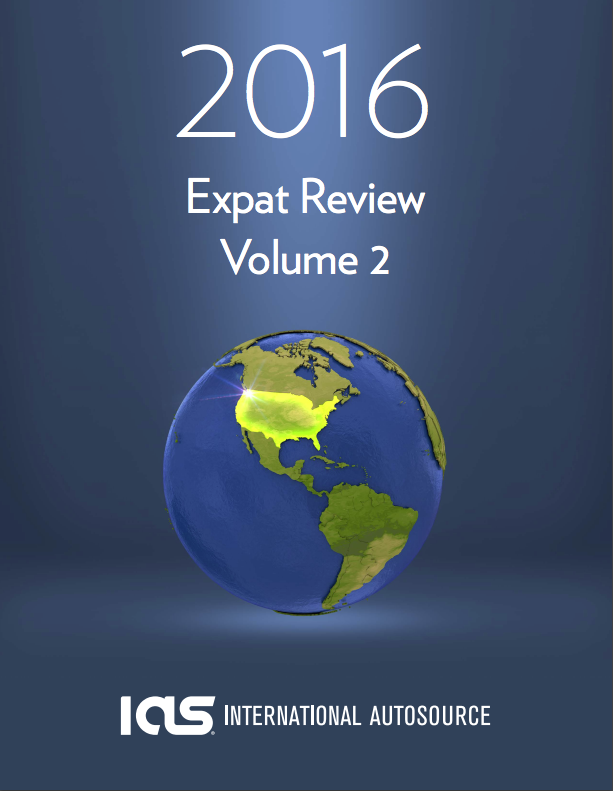 The expatriates surveyed were customers of International AutoSource and members of the Expat communities, British Expats, and Expat Exchange. The participants relocated from around the world, but the most common countries of origin were the United Kingdom, Philippines, Brazil, Mexico, and India. The majority (92.9%) had relocated to the U.S. on a work assignment.
Perhaps the most insightful part of the 2016 Expat Review is the section titled 'what the Expats wish they knew.' Featured throughout the study are testimonials from expatriates, sharing what information they wish someone had told them before they moved. Topics range from health insurance and tax implications of cultural differences. Suzanne W. from the United Kingdom wrote that she wished she knew "how culturally different the UK & US was…seems so similar from films/TV but it's not."
Expatriates and relocation specialists alike will find that the 2016 Expat Review is a great tool for learning more about the expatriate community in the United States. The study can be downloaded online from International AutoSource.
About International AutoSource
For over 20 years, International AutoSource has been providing value-added services and benefits specifically designed for expatriates and the global community for short and long-term assignments. Their programs offer full-service personal transportation solutions for financing, purchasing, leasing and rental without a local credit or driving history. Through outstanding service, value and support IAS strives to make assignments into a foreign country as seamless as possible while saving customers valuable time, money and resources. For more information, please contact International AutoSource at 516.496.1816, email at intlauto@intlauto.com or visit their website www.intlauto.com.