Moving to another country can seem like a daunting task, especially if you lump everything together from finding housing, navigating cultural differences and language to finding your way around your new country. Speaking of finding your way around your new country, this is what leads us to this topic: Understanding German traffic signs and their meanings.
From warning signs to speed limits, regulatory, supplemental and parking signs we've put together a list to help you navigation your new roadways, minimize travel stress and more importantly, avoid a potential accident.
German Warning or Danger Signs
These signs alert drivers to hazards on or near the road. The standard shape for German warning signs is the red triangle.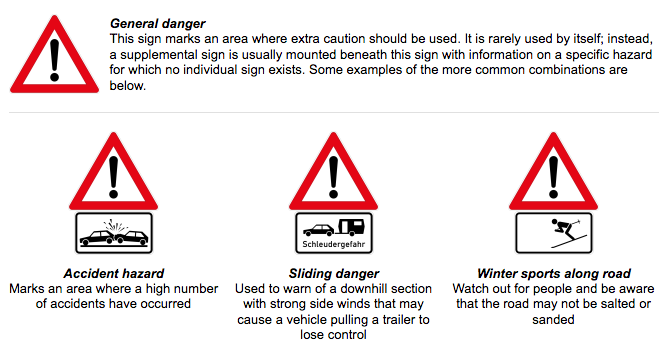 All the images displayed in German warning signs are internationally recognized symbols that make these dangers clear no matter what language you speak. Below we've provided a few more examples and their meanings.

Supplemental Signs and What They Mean
On of the most common uses for supplemental signs is for distances. There are two such signs: The distance to the parent sign's information (examples shown above) and the length or duration of the warning or information. Shown below are examples that show the difference between the two types of distance signs:

Germany Speed Limits Signs
There are a number of different speed limit signs. Maximum kilometers per hour (kph) are shown within a red circle. Minimum speed limit sign is in a blue circle. There is also an advised speed limit, most commonly found on Germany's Autobahns, which is a suggested speed limit. This sign is identified as a blue square.

There are also conditional and contextual speed limit signs shown below that offer details regarding why the speed limit is being enforced in that area:

Regulatory or Prohibited Action Signs and Meanings in Germany
These types of signs use internationally recognized symbols that demonstrate the restrictions, but it's still helpful to be able to put them in context since the descriptions below each sign are not included. The symbol to keep in mind here is the red circle and red circle with a slash indicate prohibited actions or vehicle specifications.

Informational Signs

German No Stopping and Parking Signs
The first sign below designates no stopping or parking allowed. The second sign is a continuation of the first, which shows the start of no parking or stopping area. (The top arrow indicates start of no parking.) This sign is placed on the right side of the road. The third sign with the bottom arrow indicates the end of no stopping or parking area. This sign is placed on the left side of the road. The fourth and last sign in this group indicates no parking, only a short waiting stop up to 3 minutes is allowed. Again top and bottom arrows will indicate the start and stop of the waiting zone.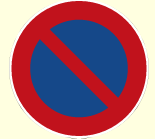 Parking Permitted Signs
Where parking is allowed it's indicated by a blue square sign. Much like in other countries, these signs also will have small icons to indicate handicapped parking, cars only parking, trailer parking, etc.




There are dozens of different types of parking signs in Germany, so we can't cover them all here, but for a comprehensive list of parking signs and there meanings go here. We've found this to be one of the most comprehensive and helpful.
We hope you find this overview of road signs helpful. For a comprehensive list of signs, please visit the sites listed in the "sources and additional resources" section provided below.
If you're moving or have recently moved to Germany, International AutoSource (IAS) in partnership with King & Mayr provides solutions for all your vehicle needs in Germany. Through this partnership we make sure each customer saves valuable time, money and resources with our exclusive expat vehicle leasing program and award-winning service. We'll help get you on the road at fair and affordable monthly rates.
Why work with IAS & King & Mayr?
Vehicle solutions: Great selection of Audi and Volkswagen vehicles at competitive monthly lease rates.
Administrative concierge: Award-winning white glove service including vehicle delivery, single point of contact and after-market benefits.
Exclusive vehicle insurance: Special program discount, fully comprehensive, GAP coverage, road-side assistance and more.
Centralized billing: Deposit monthly installments to one of the U.S., UK or DE bank accounts.
Delivery: Have your vehicle delivered throughout Germany to any location.
Exclusive Benefits:
Lease without a German credit history
No down payment required
Pre-arrival lease application
Foreign pay statements accepted
Pre-lease and interim solutions
Exclusive auto insurance discount
24/7 accident management
English and German administrative concierge service
One point of contact for all vehicle related topics, mail, bills and much more
If your work assignment is sending you to Germany, or you already live and work in Germany and need a car, contact IAS or King & Mayr and find out how you can benefit from this partnership and benefits.


Sources and additional resources:
Note: All Sample German Road Sign Images Are Public Domain According To German Copyright Law