International AutoSource would like to thank all of the essential workers for their hard work and selflessness during the COVID-19 (coronavirus) outbreak. We are very grateful for everything that you're doing to keep everyone healthy and safe during this difficult time. Each week, we share photos, videos and testimonials from expats around the world. This week would like to highlight one of our healthcare customers Elizabeth, an international nurse, who recently relocated to the United States from Nigeria with her family. As a leading provider of expat car leasing, financing, and car rentals, it's our priority to make sure every customer is completely happy!
Why do internationals love IAS? We'll let them tell you themselves!
Check out Elizabeth and her family talking about her experience with IAS and showing us her brand new 2020 Toyota RAV4.
"I want to tell my peers how good I felt having International AutoSource help me out with my mobility issues for my arrival to the United States with my family. I appreciate your professionality it was top notch and I recommend International AutoSource to any international nurse coming to the United States." – Elizabeth I.
Her daughter Kristy is very happy with their new SUV and Elizabeth's husband makes an appearance at the end of the video to share his thoughts about their experience with IAS:
"Thank you so much to International AutoSource. It was great having the assistance from the first day until the delivery date I am so happy they assisted my family to give us the right mobility. We were able to travel from to place withing out being stranded or without having to spending too much money on public transport. We say thank you to International AutoSource, thank you so much!"
Enjoy your new Toyota SUV Elizabeth! All the best getting settled in to your new home and please let us know if we can be of any further help. – The IAS Team
Customer Satisfaction is Our #1 Priority.
From the point of first contact to the day the vehicle is delivered, customers receive our award-winning concierge service from an expert consultant available to answer questions, provide updates, and ensure a seamless transition. Customers are provided assistance with financing, documentation, and registration and licensing. Nothing speaks louder than our customer referral program, where hundreds of clients refer their expatriate peers to IAS. We're proud to help these internationals with one of their biggest purchases during relocation, and knowing they trust us with their family and friends is our best compliment.

We are the vehicle experts for internationals.
Relocating to a new country is exciting time, but it can also be a stressful. Our core mission at IAS is to make getting the vehicle you need for your work assignment or academic program easy, so you can focus on your job or studies and get settled into your new home. Our factory-backed financing programs for foreign executives, healthcare professionals, business people, and students feature low rates and are designed to get you approved quickly and easily.
If we've already helped you get a vehicle, please share your experience with us. If you haven't worked with, please let us know if we can provide any assistance. Share your experience or contact us.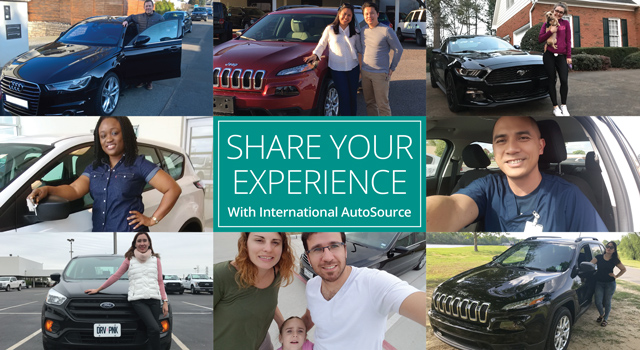 Also, referring friends, family or colleagues is the best compliment we can have. You can benefit too and earn money in the process when you share the benefits of IAS. We're proud to help international professionals and students with one of their biggest decisions during relocation – getting a car. Login to start earning now.