IAS was on the road at the AIG headquarters in New York City on May 19th for the Global HR News Conference.
IAS Director James Krulder and AIG Director of Sales Jodi Simansingh were guest speakers on a panel discussion for Global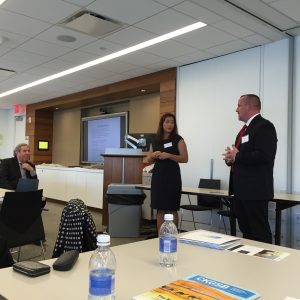 Mobility and Expat Expectation; Issues and Solutions.
During the panel discussion James and Jodi discussed the challenges Expats face relocating without credit and the effects it has on their transition and assignment. They shed light on the challenges assignees face in order to prepare global mobility managers with the solutions needed to help overcome the obstacles.  In addition, they stressed that it is always best to plan ahead to ensure a seamless transition!
International AutoSource would like to commend our partners, clients and friends on winning Communicator Awards at the Global Business News conference. These awards were presented by Ed Cohen, recognizing their contributions to the business community over the years.
Our congratulations go out to our friends:
SID FORREST, VPHR & CHRO, EnerSys Corporation
SYLVIA EHRLICH, SCRP, President at Intrepid Relocation International
JODI SIMASINGH, Director of Sales at AIG
SCOTT HAMILTON, CEO, Executive NextPractices Institute
ILENE DOLINS, Global Mobility Consultant
PHILIP BERRY, C H R O, the Clinton Foundation
JIM "EJ" SIMON, Executive & Author
ROBERT D LESSER, Striving for peace