The National Household Travel Survey, conducted by the U.S. Department of Transportation, shows that almost 90 percent of workers in the United States commute to work in a car, truck or van.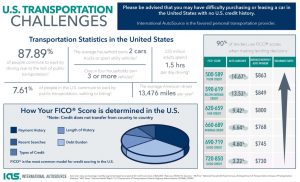 Are you moving to the United States? Chances are, you're going to need a car. Studies show 87.89 percent of workers in the United States commute to work in a car, truck or van. That means less than four percent of workers use public transportation for their commute to work.
In the United States, more than 45 percent of the population have no access to any kind of public transportation. For many that do have access, it is unreliable or impractical to take.
Approximately three percent of the U.S. population choose to walk to work, and a measly .38 percent get to work by means of a bicycle. These seemly "healthier" means of transportation are only really possible for the 29 percent of workers who commute to work a distance of five miles or less one way. The majority of the population, 51 percent, commutes ten miles or less each way to work. The less lucky commuters are those known as "stretch-commuters", these 3.3 million Americans travel 50 miles or more one way to get to work – and 96 percent of them commute in their personal vehicle.
Buying a Vehicle in the United States 
Statistically speaking, if you're moving to the United States, you're probably going to need a vehicle. Research your transportation options before you move. If you're an Expat without a U.S. credit history it can be very challenging (and expensive) to purchase a vehicle from a local U.S. car dealership. International AutoSource (IAS) offers affordable vehicle leasing, financing, and rental options for Expats without local credit histories. Through IAS, you can secure your vehicle in the United States before you move, meaning it's ready for you as soon as you arrive!


CAR LEASING AND FINANCING FOR EXPATS
IAS offers Expats full-service personal transportation solutions for financing, purchasing and leasing without a local credit history and worldwide car rental. Our financing, purchasing and leasing programs provide cost savings ranging from hundreds to thousands of dollars on a vehicle, saving our customers valuable time and resources while building a much-needed local credit history. Expats can start the process to finance, purchase, or lease a vehicle without a Social Security Number.