Well Qualified Buyer. Registration Fee. Trim Level. If you've been shopping for a car, it's likely you've seen all of these terms… but what do they mean?
Car advertisements are filled with terminology that most American's don't even understand, so for Expats shopping in the U.S. car market it can be very confusing. To really understand what an advertisement or car salesman is offering you, it's very important to learn the lingo. This will help you determine if you're getting a great deal, or having the wool pulled over your eyes.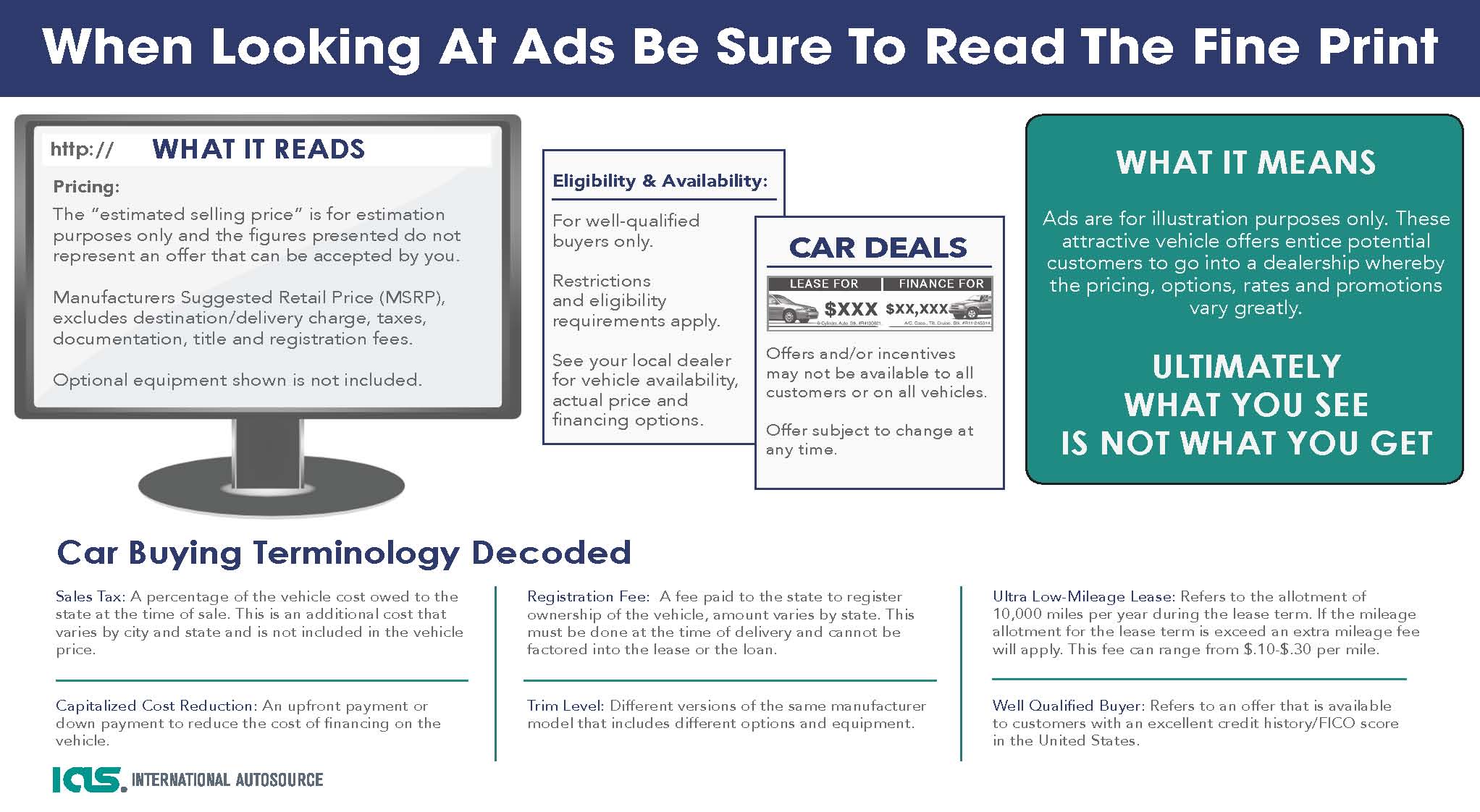 Car Buying Terminology
Sales Tax – A percentage of the vehicle cost owed to the state at the time of sale. This is an additional cost that varies by city and state and is not included in the vehicle price.
Capitalized Cost Reduction – An upfront payment or down payment to reduce the cost of financing on the vehicle.
Registration Fee – A fee paid to the state to register ownership of the vehicle, amount varies by state. This must be done at the time of delivery and cannot be factored into the lease or loan.
Trim Level – Different versions of the same manufacturer model that includes different options and equipment.
Ultra Low-Mileage Lease – Refers to the allotment of 10,000 miles per year during the lease term. If the mileage allotment for the lease term exceed an extra mileage fee will apply. This fee can range from $.10 – $.30 per mile.
Well Qualified Buyer – Refers to an offer that is available to customers with an excellent credit history/FICO Score in the United States.
Acquisition Fee – A dealer fee charged for initiating a lease including processing, running credit reports and verifying insurance.
Documentation Fee – Also known as a doc fee covers the cost of filling out and filing the paperwork. The fee amount varies by dealer.
EXPAT CAR BUYING TIPS: READ THE FINE PRINT!
International AutoSource (IAS) is a car buying program made for Expats, offering leasing, financing, and car rentals without a local credit history. The programs at IAS are designed for your peace of mind, making your new vehicle purchase safe, convenient and enjoyable! Exclusive guarantees for your assurance include lowest price guarantee (Preferred program only), satisfaction guarantee, and delivery date guarantee.