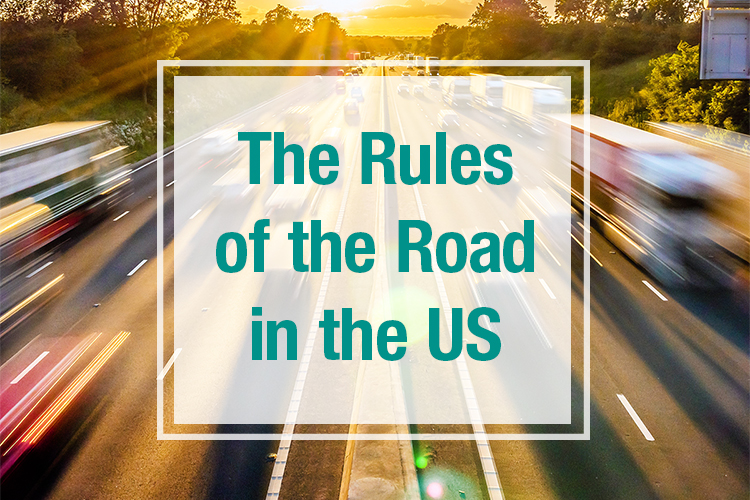 Driving in a new country can sometimes feel like learning to drive all over again. Each country has its own traffic laws and driving rules that must be obeyed.
In the US, most people spend a lot of time driving since public transportation is not easily accessible in all areas of the country. It's important to be prepared and learn the rules of the road in the United States.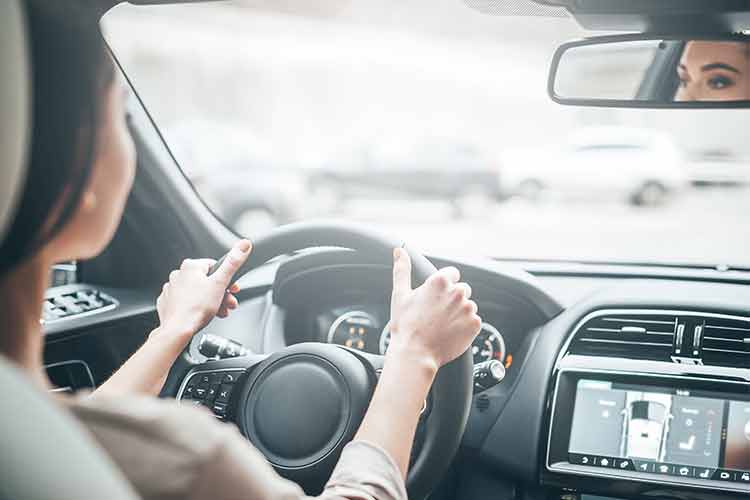 Safe Driving Tips for International Drivers in the U.S.
While driving, keep your attention focused on the road ahead, eliminate any distractions and always remain calm. Practicing safe and defensive driving can help you reduce collisions, prevent injuries, and save lives.
Stay alert and maintain the proper following distance and keep your eyes moving.
Determine the hazards around you by scanning your surroundings. Active eyes find changing traffic conditions more easily and will provide more time for you to react.
Be Seen
Make sure that everyone on the road can see you by utilizing your signals, lights and horn when necessary. When possible, try to leave space in the front and on one side of your car in order to escape any traffic conflict.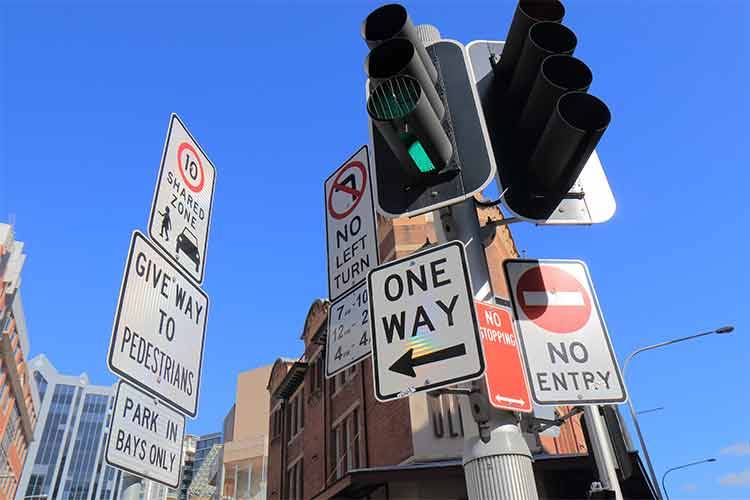 Rules of the Road in America: Signs
Upon arrival in the US expats are most likely going to need to apply for a driver's license in their new state of residence. It's important to know the rules of the road, especially the detailed road signs as they are different in every country.
In the US, there are four popular types of signage you should know: regulatory, warning, work zone, and guides. Each category contains signs of different sizes and colors.
United States Regulatory Traffic Signage
In the United States, road signs are, for the most part, standardized by federal regulations, most notably in the Manual on Uniform Traffic Control Devices (MUTCD) and its companion volume the Standard Highway Signs (SHS).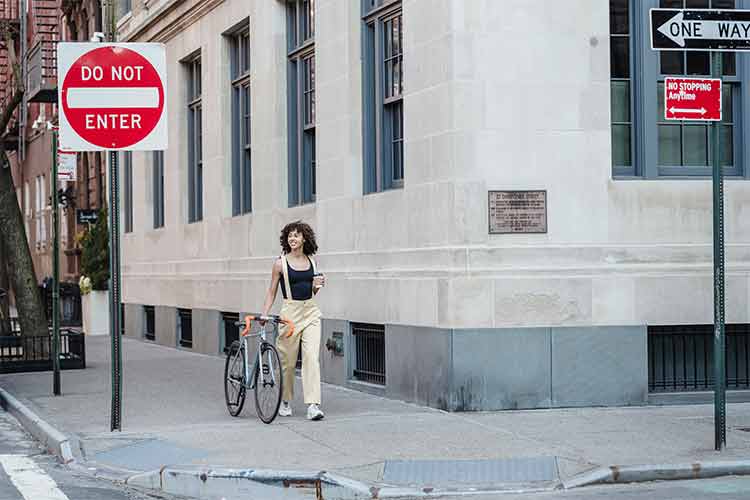 Do Not Enter
Drivers are not allowed to enter or continue moving forward for their own safety. This red sign is present at the end of one-way streets, highway ramps, and parking lots.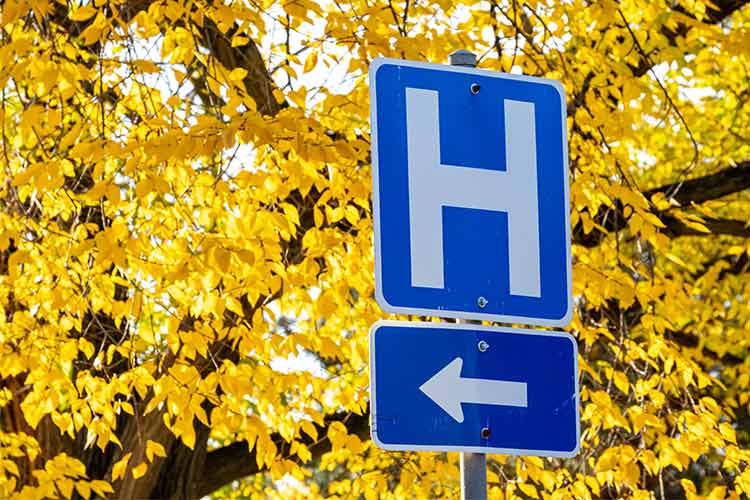 Hospital
The big "H" sign indicates a hospital is nearby and the arrows are directing drivers to its location. Also, blue signs deal with any general services, including rest stops, hotels, gas stations, and food.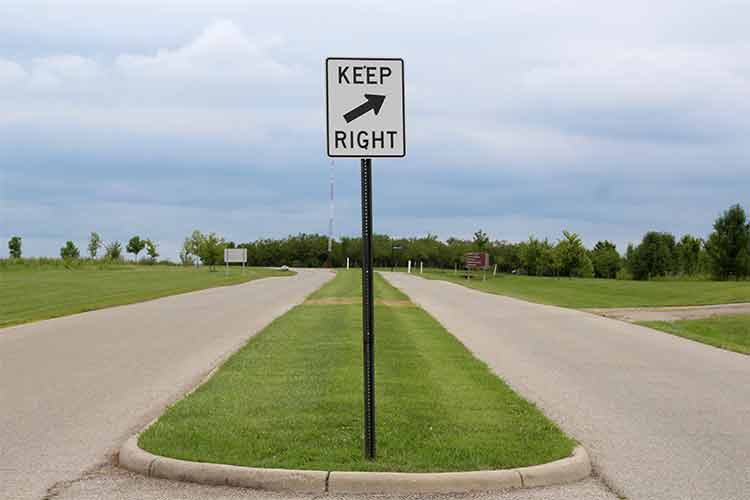 Keep Right of the Divider
This sign simply means that traffic in your lane should keep to the right because there is an upcoming obstacle or divider in the road.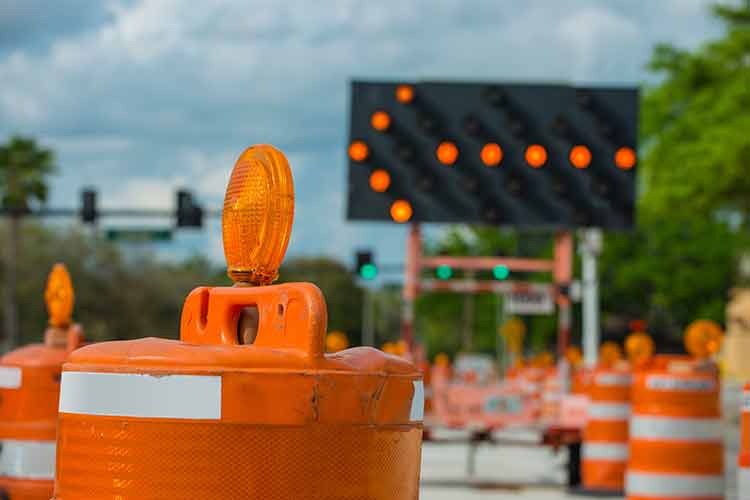 Warning Signage
Warning signs, we see them every day as we drive, and if you drive enough, you may barely even notice them. However, they require your undivided attention to keep you and your fellow travelers, pedestrians, and road workers safe.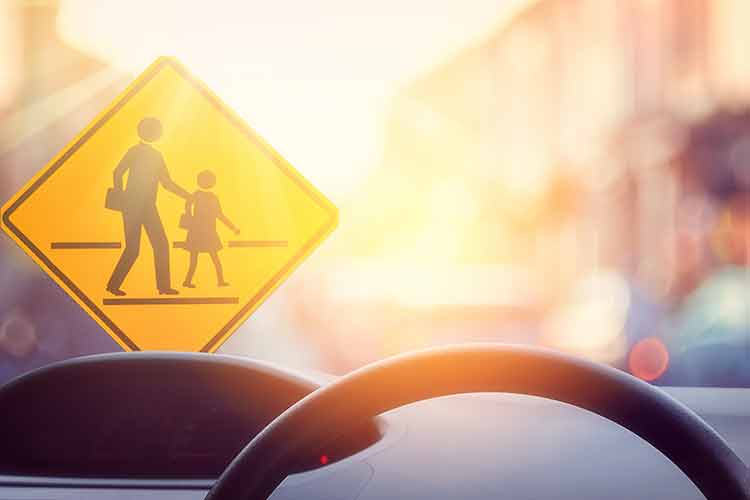 School Crossing
This sign here is an approaching school zone and pedestrian crosswalk, so drivers should be cautious and be prepared to stop. Traffic offenses have increased fines and penalties in a school zone. It's worth noting that all warning signs are yellow with black lettering.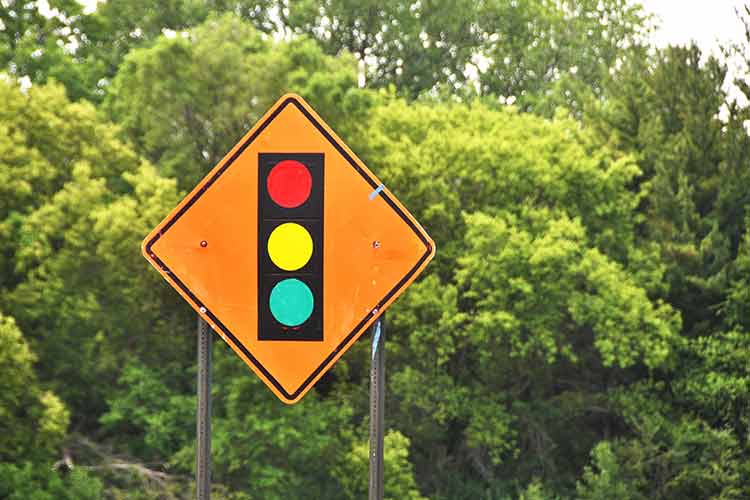 Traffic Signal Ahead
An intersection is approaching on a high-speed road so this signage alerts drivers so they can be prepared to stop.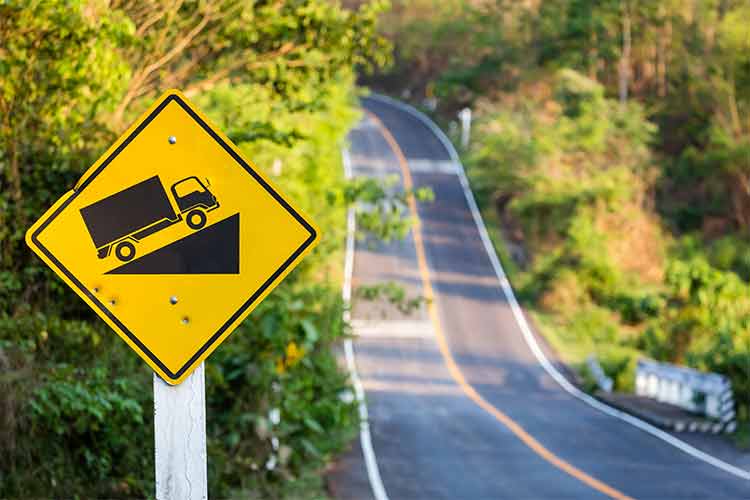 Hill
Drivers should decrease their speed, especially in poor weather conditions, due to the approaching hill. Cars may not be visible on the road.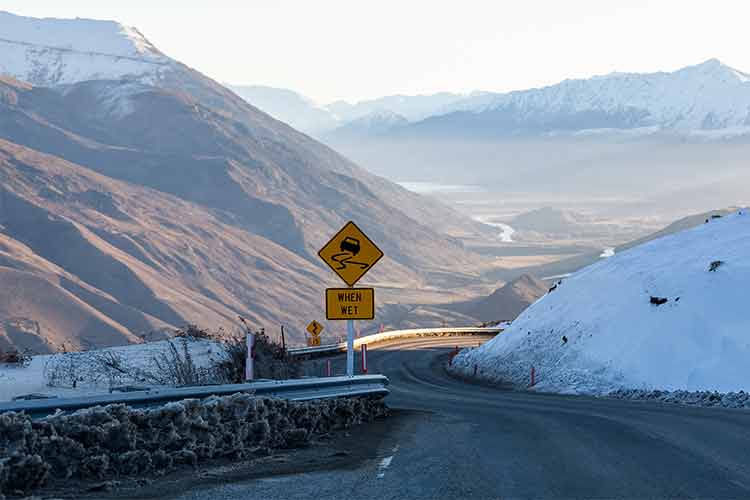 Slippery When Wet
In inclement weather, drivers should reduce their speed since the road becomes slippery in wet weather. This creates very dangerous driving conditions.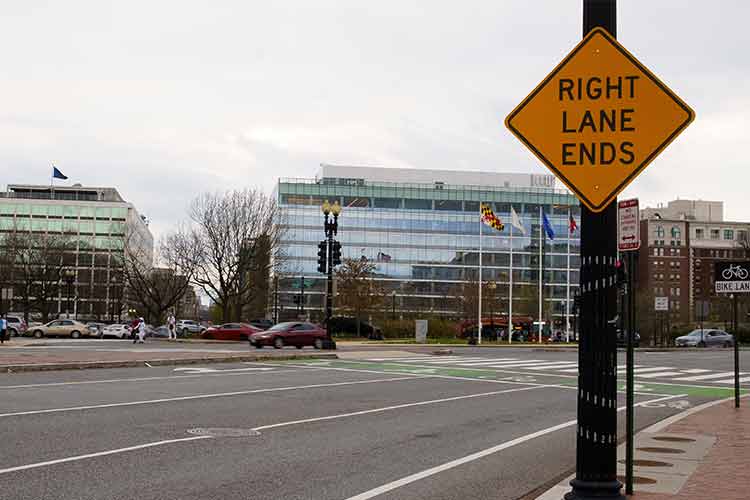 Right Lane Ends
Usually present on multi-lane highways, this sign warns drivers that the right lane is ending, and they should be prepared to merge into the left lane.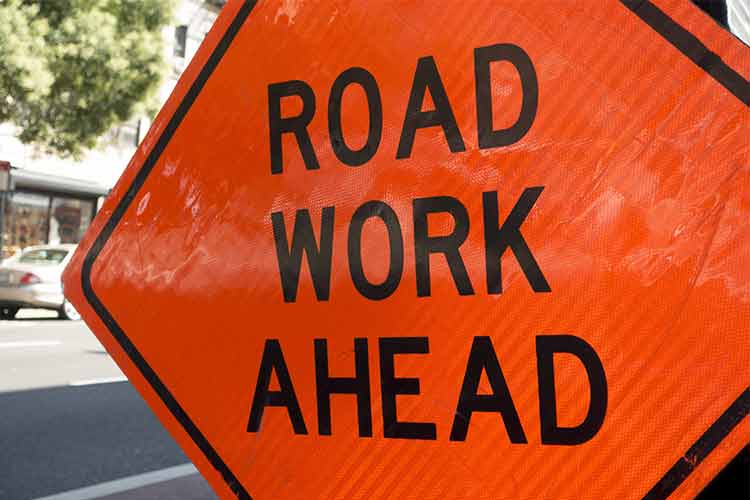 Work Zone Signage
The intent is to use approved PWP devices or mitigation measures in public works projects on the State Highway System to reduce preventable injuries and deaths to workers and drivers. 
In most cases, fines are doubled when disobeying traffic signs in a work zone.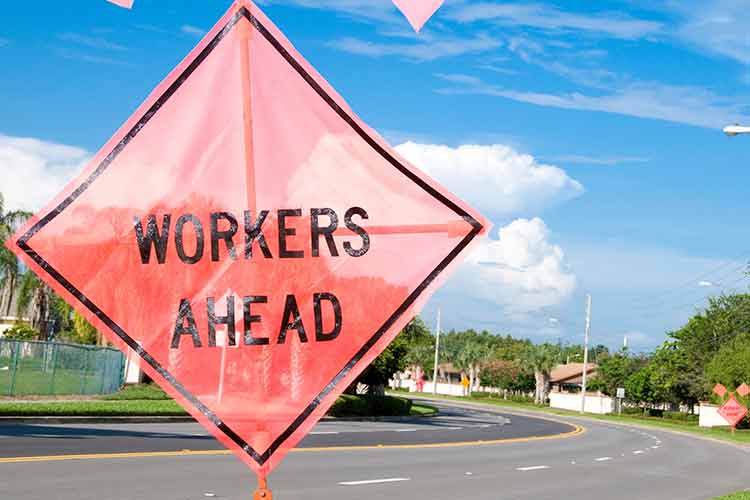 Workers Ahead
Work zone signs are orange with black lettering and means you are about to enter a roadside construction zone. Workers will be present, so drivers should slow down and be cautious. Traffic violations in a work zone will have increased fines and penalties.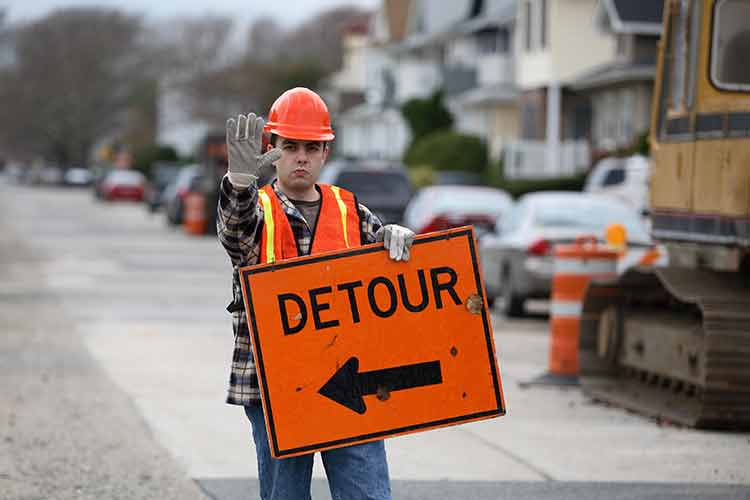 Detour
This is to show that an alternate route has been set up for drivers to avoid the construction or work zone ahead.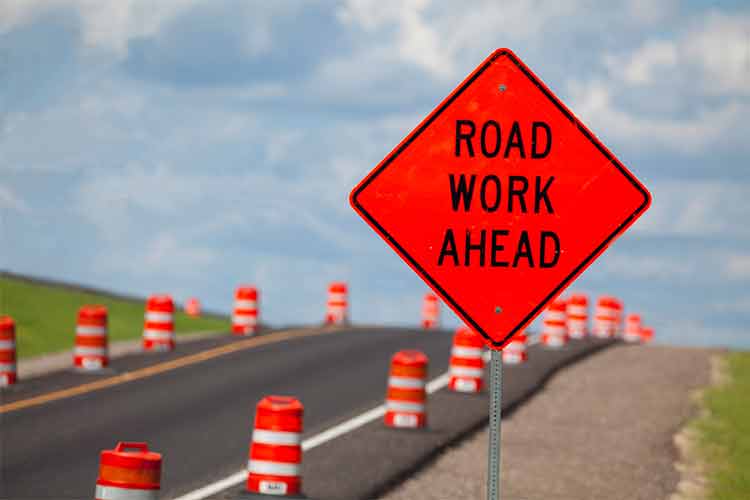 Road Work
Let's drivers know when road work is ahead and will sometimes indicate how many more miles of roadwork exists.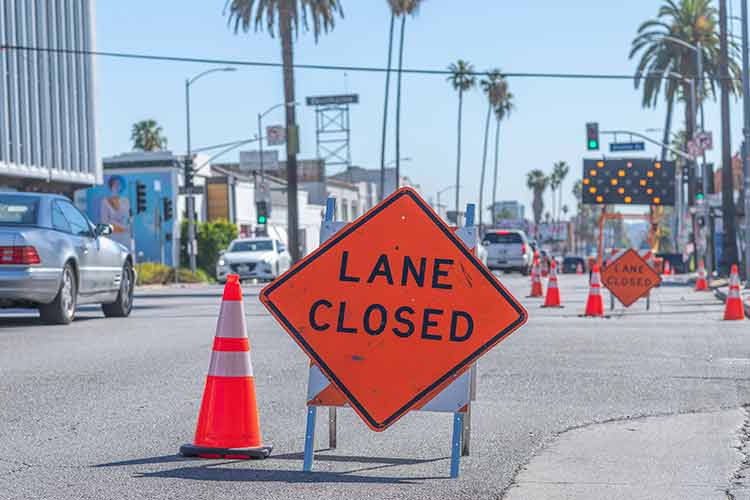 Lane Closure
Drivers should be prepared to come to a complete stop since one or multiple lanes are closed. Drivers will be forced to merge lanes.
Guide Signage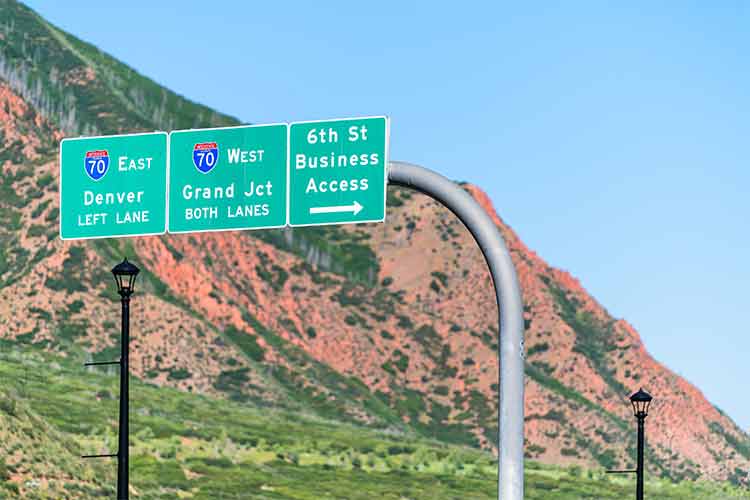 Highway/Expressway Guides
These signs are usually green with white lettering, and they tell the drivers where they need to go to reach their destination.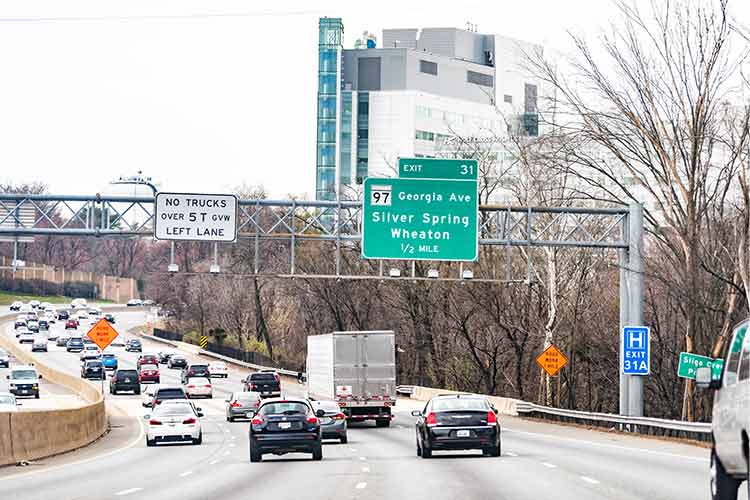 Exit Numbers
Exit signs tell drivers when to exit the highway to reach their destination.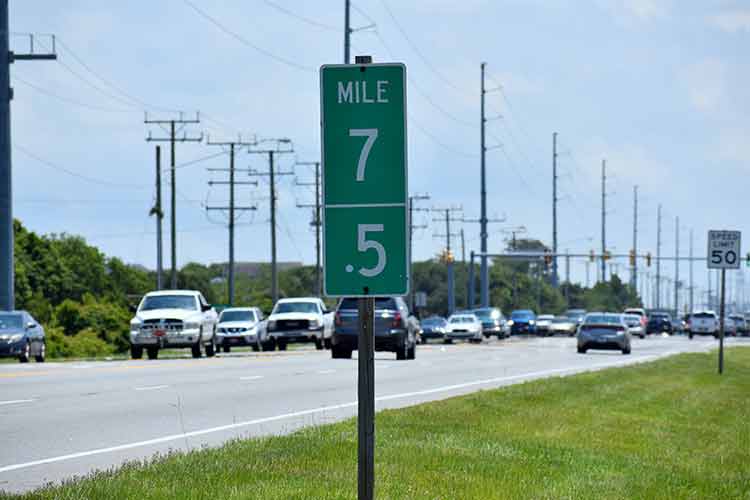 Mile Markers
Some highways use this to indicate the number of miles from the point where the traffic route entered the state.
Knowing how to read mile markers can help you know your exact location, which can be used in an emergency or when making a call to roadside assistance.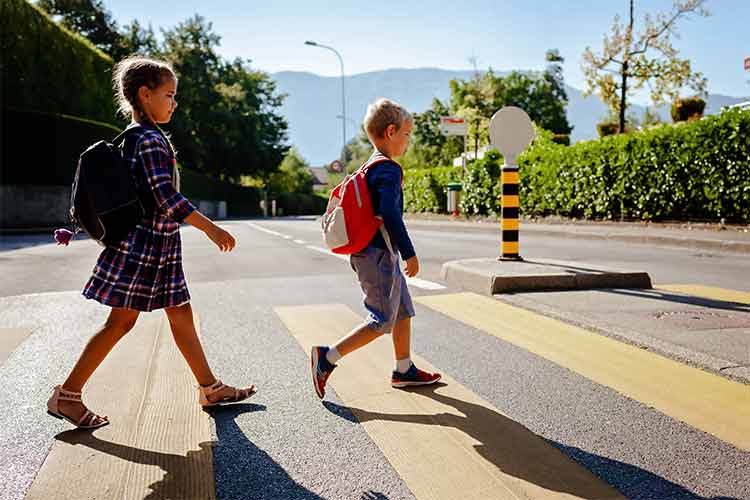 Final Thoughts
Navigating new roads in a new country can be stressful. Utilizing these defensive safe driving tips and learning the essential rules of the road in the United States will help you build confidence and sharpen your driving skills. This can make the difference between a safe and relaxed driving experience and a stressful or unsafe one.
IAS offers additional support for the safety of relocating expatriates. For every customer that orders a vehicle through IAS, they are given access to one of the premier online driving schools in the United States where they can take a convenient course, at their own pace, designed specifically for their new state of residence. Drive Safe!

About International AutoSource
For over 25 years, International AutoSource has helped over 50,000 international and domestic assignees get a vehicle for their move to the United States.  
IAS offers flexible vehicle solutions to finance, lease or rent a vehicle in the US without a local credit history. Shop top-selling makes and models from Audi, Chrysler, Dodge, Ford, Honda, Infiniti, Jeep, Lincoln, Nissan, Ram, Toyota, and many more. 
Our factory-backed financing programs cater specifically to foreign executives, healthcare workers, business professionals, students, teachers, and the diplomatic community.